---
Prior to leaving for the evening, Emily & April had some time to kill.
Then again, I think they were trying to kill themselves! There were no screens on these windows & we were EIGHT stories up!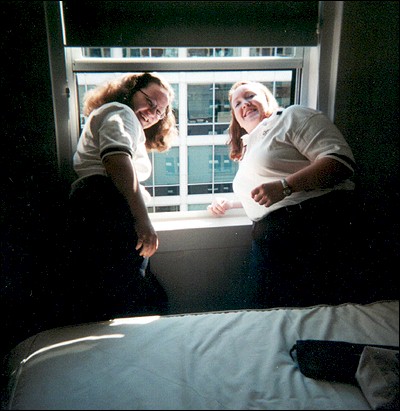 "'Trying' to see the capitol from my room window
(and scaring my mother half to death)" -- Emee
Plans had to be changed at the last minute, since Planet Hollywood shut their doors just one week prior to CV2001. The Capitol City Brewery was happy to accommodate us. Jenny & Graham headed over to decorate for "That Touch of Drink." Cary Grant swizzle sticks, champagne bottles with pink 'froth' flowing from them, the recipes for various drinks from different CG movies, bright stars & photos of Cary & Doris Day made for a festive atmosphere! (And lots of good memorabilia for my scrapbook!)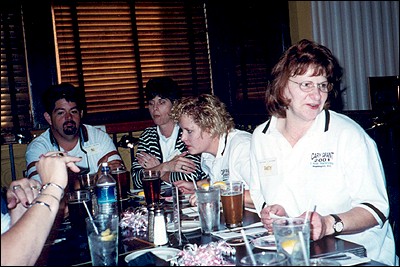 Bill Neal, LeeAnn Neal, Joan Shacklette & Patty Treiber.
Joan & Patty came to be known as our "Unplugged" Warbrides.
Neither of them have a computer. Joan found us one day while cruising the internet at a friend's house. She emailed me from her friend's computer and asked me for details of CV2001. I thought it would be easier to call her with the info, only to discover that she'd already booked her flight by the time I called! Joan's biggest fear was that we'd all think she was weird for liking Cary so much! Just wait till she sees Cheryl wearing the centerpiece at Gunga Dinner, then we'll decide who's weird!!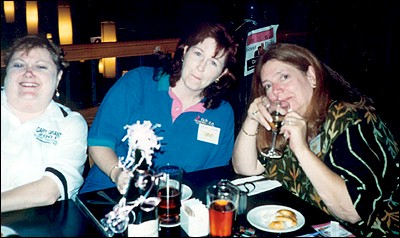 Cheryl Trahan, Caren Parker & Debby Schwensen
Here is one of the games that Little Deb had for us Friday night:
DEGREES TO CARY
How much do you and Cary have in common? In no particular order...
1. January birthday?
2. Immediate relative named "Jennifer"?
3. Have a daughter?
4. Have only one child?
5. Anyone in immediate family named "Cary"?
6. Ever dated or known a man named "Cary"?
7. Have initials "CG"?
8. Have initials "AL"?
9. Known anyone named "Archie"?
10. Have a dimpled chin?
11. Husband/boyfriend has dimpled chin?
12. Anyone in family been institutionalized?! (add two points if itís you!)
13. Ever attended a school named "Fairfield"?
14. Ever been to Bristol?
15. Ever been to Hollywood?
16. Ever paid more than $100 for a Cary item?
17. Ever named a pet after Cary?
18. First to own all 72 Cary movies?
19. Own all 72 movies plus Singapore Sue?
20. Have Ĺ brothers or sisters?
21. Ever changed your name?
22. Ever walked on stilts?
23. Have a relative named Elsie or Elias?
24. Ever been treated with leeches?!
25. Ever been to horse races?
26. Have prominent mole anywhere on body? (Only get a point if show to List!)
27. Cary fan the shortest period of time?
28. Cary fan the longest period of time?
29. Have black hair?
30. Ever been a gymnast or acrobat?
31. Been married more than once? (1 point for each marriage)
32. Have a Cary Grant rose bush?
33. Like "The Howards of Virginia"? (Subtract one point!)
34. Left-handed?
35. You or relative has 17 Ĺ inch neck?
36. Bow-legged?
37. Baseball is your favorite sport?
38. Can dance the Highland jig?
39. Actually met Cary?
40. Ever ridden in a Rolls Royce?
41. Ever been to a Caryvention? (1 point for each one attended)
42. Ever run away from home?
43. Ever seen Cary on the Big Screen?
44. Ever saw a first release of a Cary movie?
45. Ever been in a movie or on TV?
46. Ever been an actor?
47. Own something from every one of his films?
48. Ever been on the Board of Directors of anything?
49. Ever had cats as pets?
50. Share a first name with any characters in his movies?
51. Own an original Cary autograph?
52. Ever played piano?
53. Ever been told you resemble a movie star?
54. Watched a Cary movie this week?
55. Have a Dyan Cannon, Jennifer Grant, Betsy Drake, Virginia
Cherill, Barbara Grant autograph?
56. Ever been to Las Vegas?
57. Share your devotion with another famous personality? (subtract one point!)
58. Like colorized Cary movies?
59. Been a Warbride for a year or more? (one point for each year on List)
60. Think Cary is the handsomest, most debonair romantic leading man to ever grace the screen?
HOW WELL DID YOU SCORE?!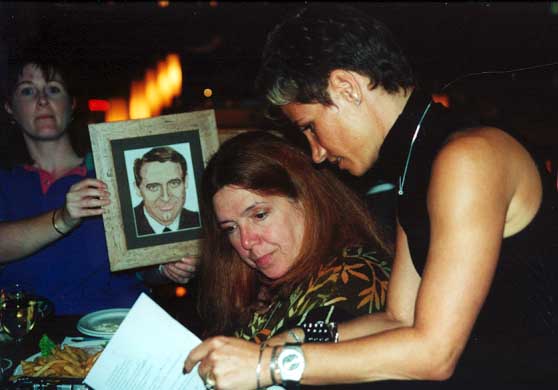 Debby Schwensen was the winner. Prosecuting Hostess, Little Deb, insists that Debby show her hidden, yet prominent mole before relinquishing the prize. (#26) The prize was a Cary cross-stitch that Warbride Maria made and contributed for the convention, even though she couldn't be there! Thanks Maria!!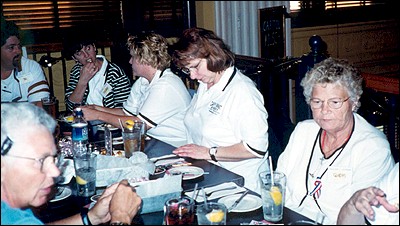 Diane Parker, Bill, LeeAnn, Joan, Patty, Gladys Trahan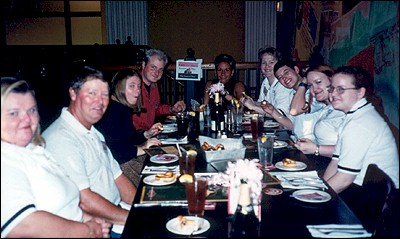 Tina Corbin, Ronnie Corbin, Jenny Curtis, Graham Allan
Debbie Moran, Debbie Dunlap, ZoŽ D., April Parrish, Emily Dunlap
??? GUESS THE WARBRIDE ???
Ever the jokester, Little Deb made up rhymes even for the get acquainted games. Those who guessed correctly won magnets.
Born in Brownsville and since Ď97 a Cary fan,
I like golf, Spencer Tracy and Charlie Chaplin.
Who am I?
LeeAnn Neal
---
Born shortly after armistice in the USA Midwest,
Iím a west coast gal who at 10 knew C.G. was the best.
Who am I?

Helen Fredericks
---
My family comes from "the Rock",
and one on my finger I do see,
I love to scooter, but my fav is Cary G.
Who am I?

ZoŽ Shaw
---
I used to yell "drop and do 20" but now its "fore" I shout,
if its details about Cary you want, Iíll have it no doubt.
Who am I?

Diane Parker
---
Born in Nairobi, 1968 was the year,
I collect stamps, do the jig, and think Cary is a dear.
Who am I?

Aileen Mackintosh
---
Born at 10 lbs 8 ozs, I coulda blocked a punt,
Iím a southpaw, an NFL fan and a lover of stunts.
Who am I?

Melanie Funderburk
---
Iím singiní in the rain about another favorite of mine,
I donít eat meat, Iíve met Mr. T,
and a CG fan since before I was nine.
Who am I?

Sarah Joseph
---
Born outside the States in 1973,
Myrna Loy is my favorite co-star, and I work for Nike.
Who am I?

Sandy Mitchell
---
Dorothy and Toto lived in Kansas like me,
April 24th is my date, and Iím new to Cary.
Who am I?
Patty Treiber
---
Love me tender Ďcuz medical lingo I knows,
yellow rose is my flower but I collect pink flamingos.
Who am I?

Cheryl Trahan
---
The length of my infatuation with Cary is really quite short,
and since thatís all to describe me, this riddle Iíll abort.
Who am I?

Debbie Moran
---
I am afraid to flush and I have your dear friendís voice,
I started young liking Cary, but I didnít have a choice.
Who am I?

Emily Dunlap
---
I want to look like Ingrid, but Eva starred in my favorite flick,
my home state ends in "i" and Iíve been a fan since 1996.
Who Am I?

Joan Shacklette
---
Cary is my true hero, Iíve seen about all of his movies,
I have 12 dogs, make jewelry and think Charade is pretty groovy.
Who am I?

Kathy Fox
---
My guy is a cracker, weíll toast to each other real soon,
letís keep it a secret from this fella that Cary was the first to make me swoon.
Who am I?

Jenny Curtis
---
I come around every spring, and travel is my joy,
I attend university at night leaving the day to think about our boy.
Who am I?

April Parrish
---
I design webs all day, but a spider Iím not,
I sign off with a sneeze message, and my nickname is quite "hot."í
Who am I?

Debbie Dunlap
---
I share name and initials with another East Coast Warbride,
and since I didnít give Little Deb my info, this is all she could describe.
Who am I?

Tina Cinquemano
---
The name "Smith" is oh so familiar Iíve known it all my days,
Iím crabby all week, but off time its Cary movies that I gaze.
Who am I?

Tina Corbin
---
Iím really quite regal, and near Mickey Mouse is my homestead,
Itís 40 soon, and enjoy a needle and some thread.
Who am I?

Caren Parker
---
When you hear my initials you want to floss and to brush,
for over thirty-five years on CG Iíve had a big crush.
Who am I?

Debby Schwensen
---
Friday:
Enter Madame
That Touch of Drink
Notorious
An …clair to Remember

Saturday:
The Philadelphia Cream Cheese Story
Merrily We Go to Hill
The All Full Truth
This is the Sights
Gunga Dinner
The Late, Late, Late Show
CaryTrivial Pursuit
Sunday:
Howsaboutaboat