After September 11th, I thought the America was an especially appropriate place to eat. Funny thing is, we'd chosen it months ago.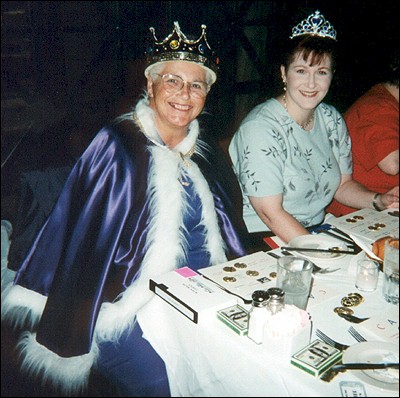 Diane, Queen of Useless Knowledge and Princess Caren.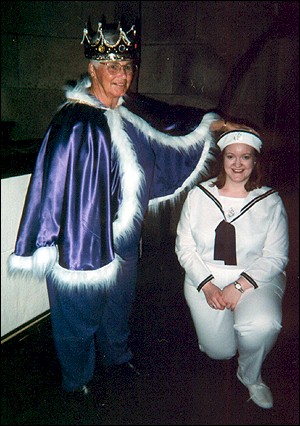 The Queen bestows knighthood upon the Admiral of the Fleet.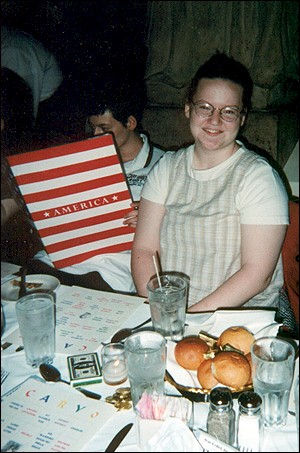 Great photo of Emily, the Cary-o game cards
and ZoŽ reading the America menu!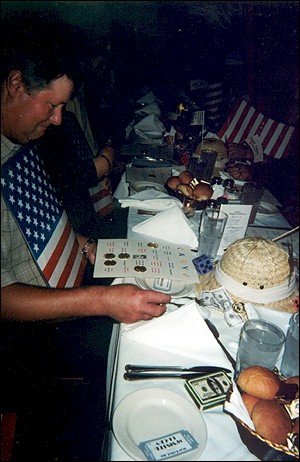 Ronnie Corbin plays Cary-o bingo.
Notice the pith helmet centerpiece.
The ticket in the foreground were the prize tickets!
LOTS of door prizes!!
Prizes included:
Cary photos, Cary movies, mousepads, coasters, posters, lunch pail, planter, ads, magazines, North by Northwest script.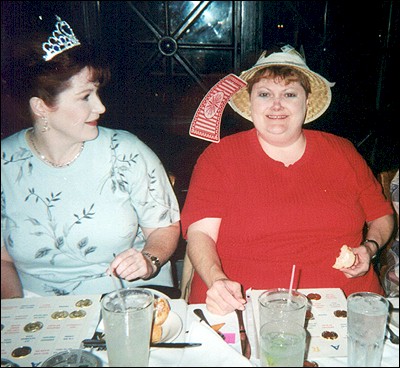 "It wasn't long before our favorite Texan was wearing the centerpiece."
-- Jenny
These are the only pictures I have from Saturday night. If you would like to send me any doubles you have, any contributions to my personal scrapbook would be greatly appreciated!
---
Friday:
Enter Madame
That Touch of Drink
Notorious
An …clair to Remember

Saturday:
The Philadelphia Cream Cheese Story
Merrily We Go to Hill
The All Full Truth
This is the Sights
Gunga Dinner
The Late, Late, Late Show
CaryTrivial Pursuit
Sunday:
Howsaboutaboat