I discovered the Capitol Hills Arts Workshop over a year ago! When it was decided that CV2001 was to be held in Washington, D.C., I immediately called CHAW and made plans for a film festival here. The folks at CHAW were wonderful!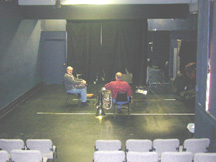 The Blackbox Theater at CHAW
What movies to watch?!
I was able to rent "Singapore Sue" for just a couple of dollars, so I figured, "Why not!" If you think SS is stinky on your dinky little television, it is a major PU on the big screen!! How in the world did anyone see potential in this young actor?! And those eyebrows!! I didn't know a person could have so many muscles in his forehead!! Archie Leach obviously learned a few eyebrow acrobatics while with the Pender Troupe!!
Selfishly, I wanted everyone to see one of the rare, old ones. "Kiss & Make Up" is a favorite of mine. It's so, SO silly! If the roars of laughter were any indication, everyone seemed to enjoy it a lot. "Corned Beef and Cabbage, I Love You!"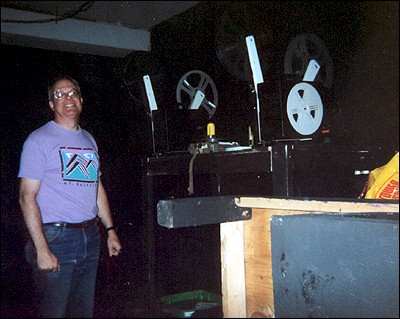 John Stone, about "Kiss & Make Up" -
"Where has this movie been all my life?!"
Everyone voted last fall for the second movie we'd see. "My Favorite Wife" was the winner, with "The Awful Truth" a close second. When John Stone, CHAW program coordinator for 'Films on the Hill,' told me that he had a nice 16mm copy of "The Awful Truth" we could use at no cost, "The Awful Truth" became our #1 choice!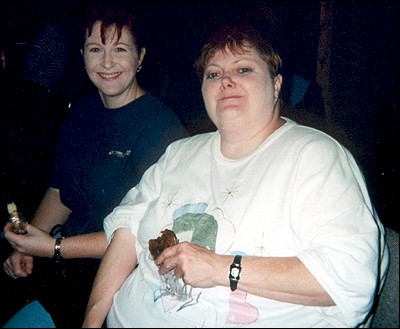 Caren & Cheryl
Little Deb brought Little Debbie snacks for intermission.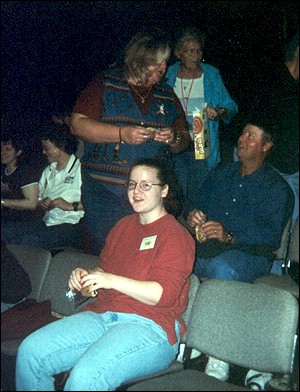 Aileen, Tina Corbin, Gladys, Ronnie, & Emee.
Snack time!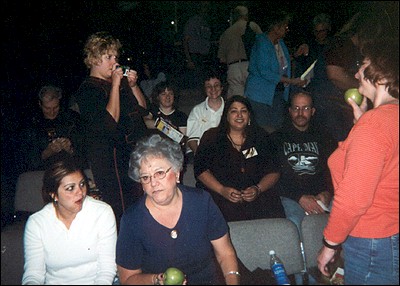 Little Debbie snacks & apples, too!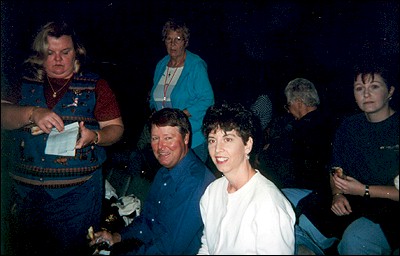 Tina Corbin, Gladys, Ronnie, LeeAnn, Caren
"I've always thought Cary was handsome, but seeing him on the big screen was breathtaking. What a fabulously gorgeous man." -- VDeb
"Saturday was a total triumph. The movies were great. The Warbrides took over the CHAW and made watching Kiss and Make Up and the Awful Truth a riotous event. Kiss and Make Up was worth the trip for me. Seeing a really great CG movie that I'd never seen before with the warbrides, on the big screen was one of the biggest thrills ever for me." -- Jenny
---
Friday:
Enter Madame
That Touch of Drink
Notorious
An Éclair to Remember

Saturday:
The Philadelphia Cream Cheese Story
Merrily We Go to Hill
The All Full Truth
This is the Sights
Gunga Dinner
The Late, Late, Late Show
CaryTrivial Pursuit
Sunday:
Howsaboutaboat