When we all arrived back at The List Outpost after our outing to the Library of Congress and the magnificent viewing of "Notorious," everyone sort of seemed to be wiped out and quiet. A hostesses nightmare! How do we liven up this party!?!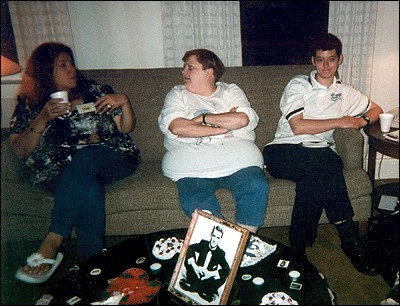 Debby patiently tries to explain something to Cheryl.
I don't think Cheryl believes a word of it!
ZoŽ, staying out of the conversation, plays it safe.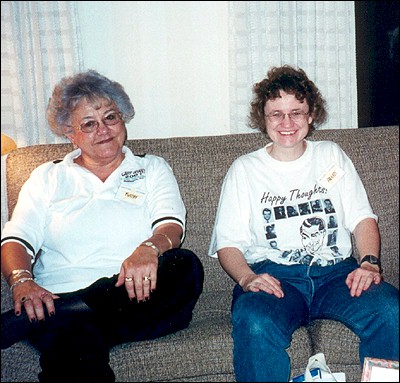 Kathy & Aileen
If Aileen is starting to look a bit loopy,
it's because her body thinks that it's nearly 4 a.m.!
So we're starring at each other. A lovely sight, to be sure, but how to liven things up?
Well ........
Several months ago, a private invitation went out to all the CV2001 Warbrides, except ZoŽ. We were planning a surprise wedding shower for ZoŽ, who will be getting married in May. Unknown to Jenny, it was to be a dual shower for she & ZoŽ! Jenny, who is getting married in June, hadn't a clue and the look on her face was fabulous!! ZoŽ was just as shocked! Aren't surprises wonderful!?! Thank you to all of the CV2001 attendees who gave so generously so that these founders of the Email Warbrides could be showered with Cary wedding gifts!
Sarah made the wedding veils for both Jenny & ZoŽ.


ZoŽ's gifts included much of the memorabilia she sold in order to finance her trip to CV2001, as well as all of the movies to complete her Cary Grant movie collection!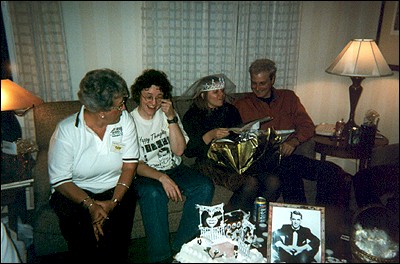 Kathy, Aileen, Jenny & Graham
Jenny gifts included the rest of the movies she needed to join the 72 Speakeasy; also, "Archie Leach" by Cary Grant.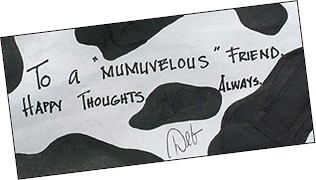 Remember when I said EVERYONE would know about muumuu's before the end of Caryvention? Remember Little Deb's "Twas a Few Weeks Before Caryvention":
"And VDeb in her mu mu, and Little Deb in g-string,
had just finished discussing a critical CV2001 thing."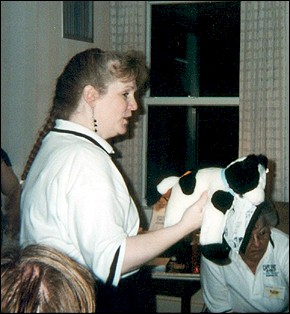 She actually got me a "Moo Moo" for the Caryvention!
Now I may be a good sport, but there are limits!!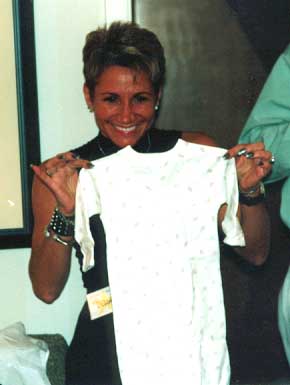 So, I got her a muumuu, too! Just her size!!
(Stay tuned! More muumuu's to come!)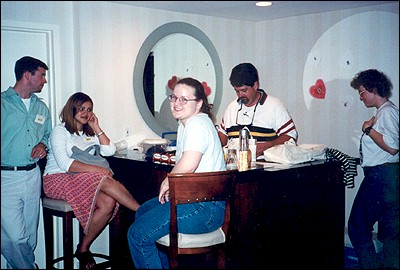 Jason & Sandy Mitchell, Emily, Bill, Aileen
An excellent view of our kitchen area.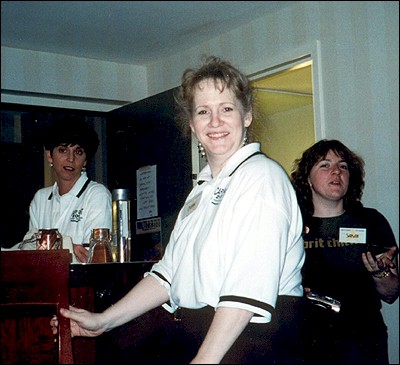 LeeAnn, VDeb, Sarah Joseph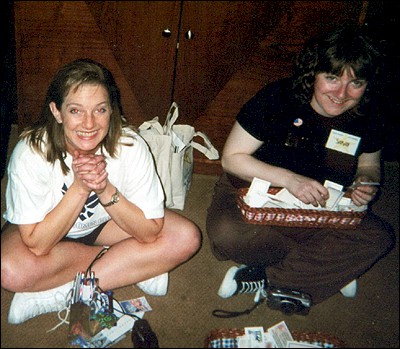 Melanie & Sarah
Sarah is looking through a basket of jewelry that Kathy made and gave as gifts. I love my dangly crystal earrings, Kathy!!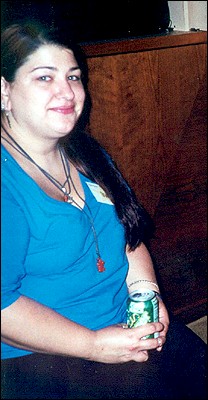 Tina Cinquemano - Beautiful lady!!
This lady has the most GORGEOUS eyes and smile!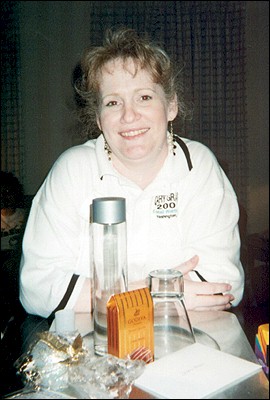 Voluptuous Deb
Here I am standing behind Godiva Chocolates.
And you wondered how I keep my voluptuous figure?!
---
Friday:
Enter Madame
That Touch of Drink
Notorious
An …clair to Remember

Saturday:
The Philadelphia Cream Cheese Story
Merrily We Go to Hill
The All Full Truth
This is the Sights
Gunga Dinner
The Late, Late, Late Show
CaryTrivial Pursuit
Sunday:
Howsaboutaboat