Captain Scarlet and the Mysterons
"Captain Scarlet's voice and facial characteristics were based on a young Cary Grant."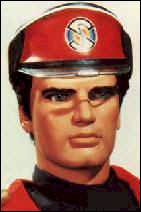 This British television series was created and produced in 1967, by Gerry and Sylvia Anderson, the same genius minds behind the world wide success of "Thunderbirds", its direct predecessor in a long line of Supermarionation shows. "Captain Scarlet" was very different from these other series: it was the first to use the actual real proportions of the human body, instead of the caricatured features of its predecessors. Its gloomier tone was also a far cry from the lighter one generally employed in the other shows, such as in "Thunderbirds".

Click on Captain Scarlet photo to hear a Cary-like voice clip.
Visit Captain Scarlet's Unofficial Website:
http://www.spectrum-headquarters.com/
Many thanks to Paul Roberts for all of the information!!