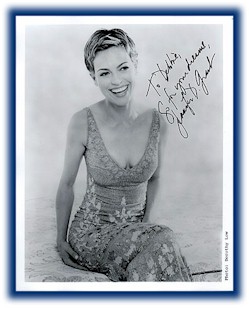 According to Cary Grant his daughter, Jennifer, was his best production. From the number of e-mails I receive asking about Jennifer, it would appear that a lot of you think so too! And so I've added this page. If you can give me information to add to it, I would be most grateful.
(FYI - the above photo was NOT autographed to me personally! I'd been looking around for a photo of Cary's best gal, but hadn't ever found one till one day this one popped up on eBay.)
Christmas Lullaby/Here's To You - Grant really made only one record, a 45 rpm. He made it in October 1967, inspired by the birth of his daughter. (from Cary Grant: A Bio-Bibliography - Beverley Bare Buehrer)
Born: February 26, 1966
Father: Cary Grant
Mother: Dyan Cannon
Jennifer was born two months premature and weighed only 4.5 pounds.
After her parents were divorced in March 1968, Jennifer spent time with both her mother and her father.
Jennifer's first school was Buckley, a private school in Van Nuys.
As a young child, Jennifer naturally wanted a pet, but Cary did not like household animals. Instead he bought her a horse and Jennifer became an accomplished rider.
Being the daughter of Cary Grant meant that offers from studios for parts in movies were made to her at a very young age, but Cary and Dyan both felt that she should have a normal childhood. It was obvious, however, as Jennifer grew older that Cary did not want his only child to follow in his footsteps. Despite numerous offers made to her by studios desperate to cash in on both her name and good looks, Jennifer studied at a succession of private schools before going on to Stanford University to study Law.
After graduating with honors from Stanford in 1987, Jennifer worked on projects for the homeless with a public interest law firm in San Francisco. However, she decided to go against her father's wish, and enrolled in an acting class. After several years of trying different jobs, she finally started work as an actress when she won a regular part in TV's Beverly Hills 90210.
Has been married to TV executive Randy Zisk, divorced 1996(?).
Beverly Hills 90210
Two summers - performed with Shakespeare & Co
Later she took a guest spots in Friends & Ellen, and she has had a role in the film Evening Star.
Most recently, Jennifer has starred in the TV Sitcom "Movie Stars".