What began as a simple pajama party, became, with the help of a little (provocative) music and a lot of imagination, a riot!!
All those who made special jammies for the evening waited in line outside in the hall for their entrance. What they didn't know until the first entrance was that Little Deb had a CD full of runway music that they had to perform to! For example: "Stripper," "I'm Too Sexy," "Hot, Hot, Hot," and "I Feel Like a Woman."
"The pajama party was a blast. This was definitely the warbrides on the verge of total anarchy." -- Jenny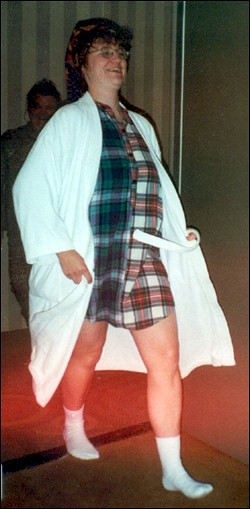 The last couple of pictures on my roll came out with this red streak on them. Sorry Aileen!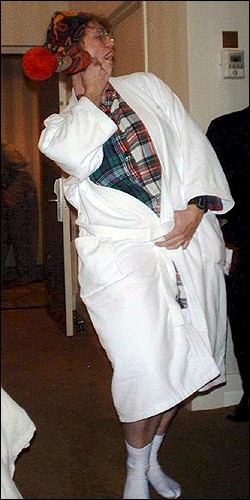 Look at the funky picture Cheryl sent me!
Ah, what a girl can't do with a good hat!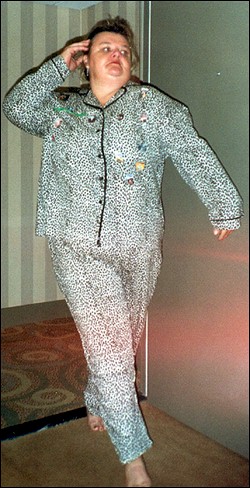 Tina Corbin struts her stuff!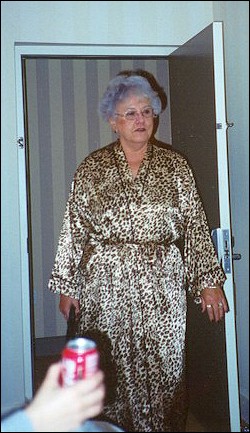 Kathy in her "My Favorite Wife" robe.
Thanks for the picture, Helen!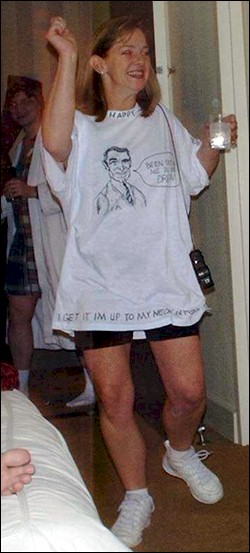 I loved this shirt!! Melanie claims she's no artist,
but she did this shirt herself!! Excellent!!

Wahoo! Diane!!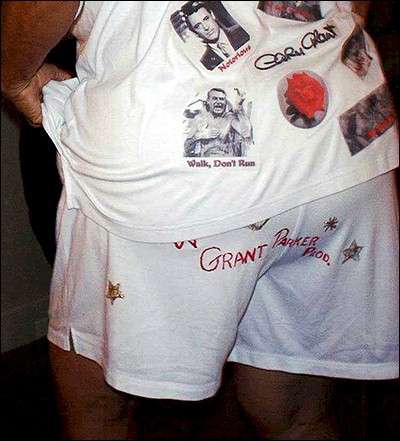 Diane's best side & greatest asset!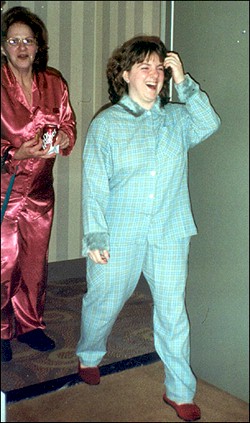 Shy Sarah get in on the fun!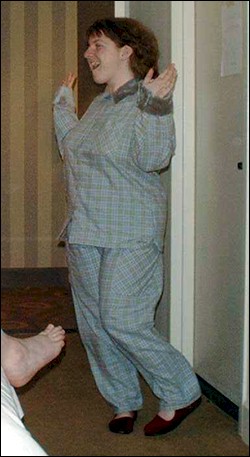 I can't tell if Sarah is getting into a festive mood, or if she's saying,
"No WAY! I'm not doing this!"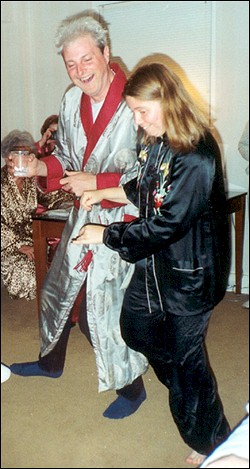 Jenny & Graham rock the house!!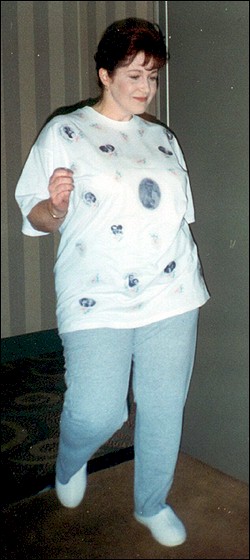 If anyone was a close second to Jason, it was Caren!
This woman has some MOVES!!! Definitely a PG-13!!!
AND THE WINNER IS ........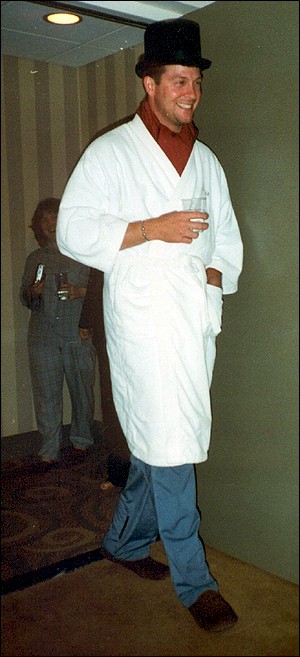 Oh, how dapper Jason looked when he walked in ...
While Shania Twain's "I Feel Like a Woman!" played!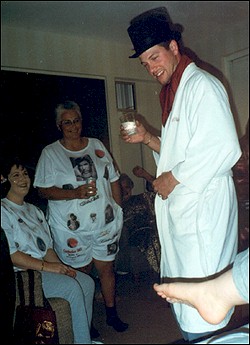 I think the sight of this bare foot got Jason all excited, because ...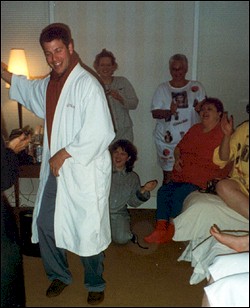 He soon got down and got jiggy with it!
And earned a couple of bucks!
"What can I say about the costume contest other than, Sandy if you and your husband ever fall on hard times, I'm sure he'll have no troubles picking up extra cash as an exotic dancer." -- Jenny
Last but not least ... I told you that there was more muumuu to come! Remember this message to the list?
Hey! Look at me, Little Deb ... I'm doing the Last Word Waltz in my muumuu!!



La ... la, la, la, la ... la, la, la, la, la, la, la, la, la ... "last word"
La ... la, la, la, la ... la, la, la, la, la, la, la, la, laaaaa
La ... la, la, la, la ... la, la, la, la, la, la, la, la, la ... "last word
La ... la, la, la, la ... la, la, la, la, la, la, la, la, laaaaa

I can hear Cary whispering in my ear, "You dance divinely, my dear. And that fuchsia muumuu is SO becoming."
VDeb with the LAST WORD signing off!!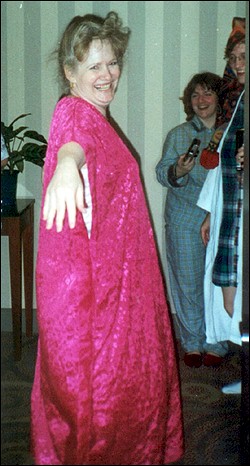 VDEB in her fuchsia muumuu

---
Friday:
Enter Madame
That Touch of Drink
Notorious
An Éclair to Remember

Saturday:
The Philadelphia Cream Cheese Story
Merrily We Go to Hill
The All Full Truth
This is the Sights
Gunga Dinner
The Late, Late, Late Show
CaryTrivial Pursuit
Sunday:
Howsaboutaboat