Way back in March or April, Debbie Moran started searching downtown D.C. to find us the most attractive accommodations for the most reasonable price. At one of our earlier planning sessions, Deb took me to critique a couple of the most suitable hotels. Hotel George was chosen, because the rooms were spacious, bright and inviting. I could just picture us all gathered together in one of these rooms! Deb was able to negotiate room rates at half price, and to further our enjoyment, Lil Deb rented a suite for our use. The suite gave us more seating, a separate bathroom, a kitchen and the use of a vcr. Ever the creative genius, Deb dubbed the suite, "The List Outpost."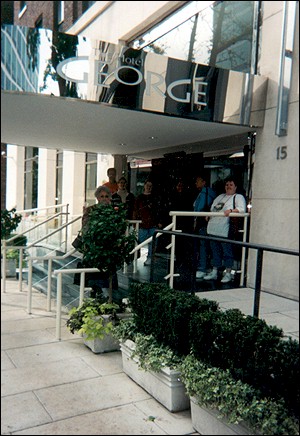 Little Deb was constantly reminding me NOT to call our lodging facility a "Motel." I think calling it a "motel" got her excited with a false sense of anticipation; did anyone else notice the spiked jewelry and dog collar?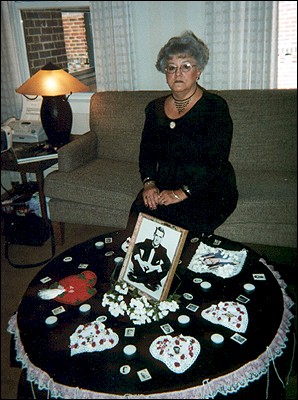 Kathy arrived early to set up the Cary Shrine she'd designed.
While Debbie Moran & I did organize this event, it took the collective efforts of us all to make it the success that it was!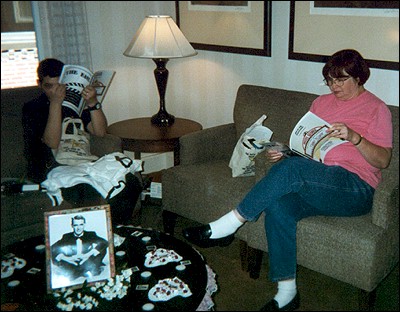 ZoŽ & Helen read the program.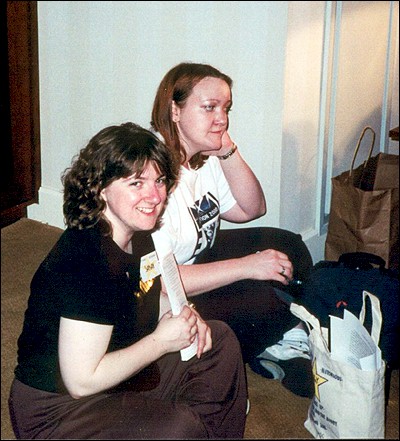 April & Sarah look through their loot bags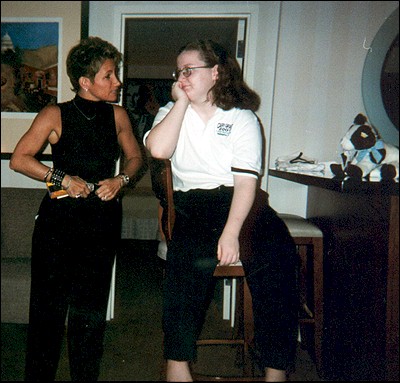 Little Deb explains what a muumuu is to Emily.
Believe me, by the end of CV2001,
EVERYONE will know what a muumuu is!!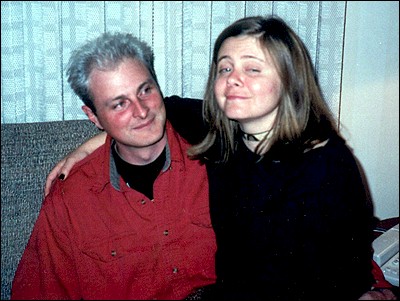 "When women go wrong, men go right after them."
Jenny & Graham
This is one of my favorite pictures!
---
Friday:
Enter Madame
That Touch of Drink
Notorious
An …clair to Remember

Saturday:
The Philadelphia Cream Cheese Story
Merrily We Go to Hill
The All Full Truth
This is the Sights
Gunga Dinner
The Late, Late, Late Show
CaryTrivial Pursuit
Sunday:
Howsaboutaboat