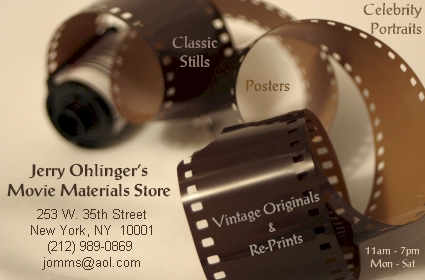 Do you like Cary Grant so much that you want to collect everything possible? Well, here are a few helpful addresses, hints and tips.

If you know of anywhere else that sells Cary Grant memorabilia, have advice for fellow collectors, or if you have something of Cary to trade or sell, please let me know!.

Before you begin shopping ...
While I strive to have only reputable companies listed here, please note that I have no affiliation with any of the suppliers/dealers listed on this page.

One of the most accessible places to buy Cary memorabilia (at least, if you have internet access, which you obviously do!) is ebay - a "trading community" on the WWW. Basically, you register by filling in a form and then you are free to bid on any auction you want. Many of the items are put up for sale by private individuals rather than companies and you can get some real bargains. Why not try it out? You can see what is available without registering. Just go to the site and enter "Cary Grant" in the search box. Just one thing....be careful, bidding on ebay can become addictive!!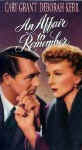 All 72 of Cary's movies are available and I have sources for them all!

A large selection of Cary Grant films can be purchased from video stores in most countries. In addition, there are several good on-line sources where you may be able to purchase a wider selection. Go to the NTSC or PAL pages for listings of some companies that sell online.

What do NTSC & PAL mean? Click here to find out.
Unfortunately, not all of his Cary's films are available commercially. Some of them get shown often on TV. If you are like a lot of devoted CG fans, you may be on a quest to own all the movies he ever made. Go to the Hard-to-Find video page for sources that can complete your Cary video collection.
Another good way to get the elusive movies you need is to find another devoted fan to swap tapes with. So where can you find such a devoted fan? Why not join the email Warbrides!

Click on the radio!!



Click on the radio to go to visit
www.carygrantradio.com
University of Memphis Radio Archive
- One of the few places you can by Cary on the Radio! This place is cheap - you provide your own cassettes and they record them and send them back - but they only have a few Cary programs.
Fair Pickings
- A site suggested to me by a dedicated Cary fan. He also supplied me with a complete listing of the radio shows this company carries that Cary was in:
Academy Award Theatre "Suspicion" 10/30/46
Burns & Allen NBC 2/13/47
The Circle #2 w/ R. Colman, C. Lombard, G. Marx, C. Marx, J. Iturbi. CBS 1/22/39 (slightly clipped opening) (1 hr.)
Command Performance (#34) w/ Spike Jones, R. Stevens, E. Waters, Abbott & Costello. AFRS
Command Performance "Victory Extra" (see Barrymore, Lionel for cast) AFRS 8/14/45 (2 hrs.)
Eddie Cantor Show NBC 5/19/43
Gulf Screen Guild Show "Alone in Paris" w/ I. Dunne, W. Connolly, H. Bing. CBS 4/30/39
Gulf Screen Guild Show w/ M. Rooney, J. Garland, A. Sothern, R. Pryor. CBS 9/24/39
Gulf Screen Guild Show "His Girl Friday" w/ R. Russell. CBS 3/30/41
Lady Esther Screen Guild Players "The Philadelphia Story" w/ K. Hepburn, J. Stewart. CBS 3/17/47
Lux Radio Theatre (1 hour each):
"Madame Butterfly" w/ G. Moore. CBS 3/8/37
"Theodora Goes Wild" w/ I. Dunne. CBS 6/13/38
"Only Angels Have Wings" w/ J. Arthur, R. Barthelmess, T. Mitchell, R. Hayworth. CBS 5/29/39
"Only Angels Have Wings" (dress rehearsal) 5/29/39
"The Awful Truth" w/ C. Colbert, P. Brooks. CBS 9/11/39
"In Name Only" w/ C. Lombard, K. Francis. CBS 12/11/39
"I Love You Again" w/ M. Loy, F. McHugh. CBS 6/30/41 (surface noise)
"Here Comes Mr. Jordan" w/ C. Rains, E. Keyes. CBS 1/26/42
"Talk of the Town" w/ J. Arthur, R. Colman. CBS 5/17/43
"Mr. Lucky" w/ L. Day. CBS 10/18/43
"Bedtime Story" w/ G. Garson. CBS 2/26/45
"The Bachelor & the Bobby Soxer" w/ S. Temple. CBS 6/13/39
"Mr. Blandings Builds His Dream House" w/ I. Dunne. CBS 10/10/49
"The Bishop's Wife" w/ P. Thaxter. AFRS 5/11/53
"I Confess" w/ P. Thaxter. AFRS 9/21/53
"People Will Talk" w/ J. Crain. AFRS 1/25/54
"Welcome Stranger" w/ P. Crowley, B. Fitzgerald. AFRS 4/5/54
"The Awful Truth" w/ I. Dunne. NBC 1/18/55 (no commercials/closing)
Screen Director's Playhouse "Mr. Blandings Builds His Dream House" (H.C. Potter, director) NBC 7/1/49
Screen Director's Playhouse "Mr. Lucky" (H.C. Potter, director) NBC 1/20/50
Screen Director's Playhouse "Mr. Blandings Builds His Dream House" w/ B. Drake. NBC 6/9/50
Screen Director's Playhouse "Shadow of a Doubt" w/ B. Drake. 11/9/50 (1 hr.)
Screen Director's Playhouse "My Favorite Wife" w/ I. Dunne. NBC 12/7/50 (1 hr)
Silver Theatre "Wings in the Dark" w/ P. Brooks. CBS 10/16/38
Suspense (CBS, 30 minutes each):
"Black Curtain" 12/2/43
"Black Curtain" 11/30/44
"Black Path of Fear" 3/7/46
"On a Country Road" 11/16/50
Theatre of Romance "The Ghost Goes West" CBS 1/15/46
posters
---
Collecting information from The Motion Picture Arts Gallery
What to collect
There are no set rules when it comes to deciding what to collect. Go with what you like. There are many people who will only purchase motion picture art by format, such as lobby cards. Others opt to collect based on the country of origin, for example, all Italian posters. Still yet, some collectors prefer to collect only within a particular genre or certain preferred film titles. The combinations are limitless. The best way is to go with your instincts.
Ordering a poster
When you are ordering a poster, know with whom you are dealing. Different dealers have different definitions of grading condition. Make sure you understand what is meant by "good condition". Ask about tears, stains, scratches, pin or staple holes, fading or any retouches or repairs. While mounting a poster on linen-backing is a perfectly acceptable archival process, it can also be used to hide severe condition problems. (See below "Preserving Your Collection" for explanation about linen-backing process.) Make sure you know the condition of the poster before it was linen-backed and how much restoration has been done to it.
Another concern is how your posters will be packed and shipped. A poster may leave the shop in good condition, but due to negligent packing, arrives in worse condition. It is recommended to ask about the dealer's/shop's return policy in the unfortunate event that item is damaged or turns out to be in lesser condition than you imagined. Usual practice is to insure the package for the dollar value of the item. When returning items, consideration should be taken as to repacking. The best method is to use reinforced poster tubes, wrapping the posters in brown Kraft paper or plastic. For flat items, use a couple of thick pieces of cardboard, cut slightly larger than the item itself, and packing tape around the edges.
Re-issue vs. Reproduction
Many people are confused by the difference between a reissue and a reproduction of a poster. Many movies were released subsequent to their original dates. For instance, The Wizard of Oz was originally released in 1939, but it was re-released in '49, '51, '55, etc. The studio produced ad campaigns for all of these releases. All of the posters (lobby cards, etc.) are designated as "re-issues". Oftentimes, the artwork is completely different, but interesting and valuable in its own right. A reproduction, however, is simply a photographic copy of an original poster and has little or no value as a collectible.
How do you know the difference?
Many of our favorite movie posters are in such high demand that some companies have reproduced them. There are many ways to tell a reproduction from a re-issue/original poster. For instance, all 1- sheets posters before 1980 are folded, with very rare exception. (To find out about 1-sheets, see below "Standard Poster Sizes".) A rolled, original poster of Gone with the Wind is simply nonexistent. Making sure the fine print is in focus is another indication of originality. If you have any doubt about authenticity, contact a trusted dealer to give you his or her opinion.
Preserving your collection
Like most art mediums, certain materials require the appropriate preservation methods to insure their longevity. One method in poster preservation is a process called "linen-backing". This entails mounting the poster on a treated canvas material. A sheet of rice paper is sandwiched between the poster and canvas and adhered to both with an archival glue. This permits the process to be reversed at a future time, if needed. "Paper-Backing" is a similar process, except in lieu of canvas, the poster is mounted on thick archival paper. For the most part, posters are usually linen-backed.
One warning is clear: Never dry mount posters! Dry mounting yellows the paper and cannot be reversed. Accordingly, it devalues the poster. Another recommendation is to keep your collection out of direct sunlight. If you have a large collection both in size and quantity, you may want to invest in flat file drawers. They can be purchased in most larger art supply stores.
For display in frames, it is suggested to use UV filtered glass or Plexiglas. Also because of changes in weather, resulting moisture and mildew from condensation can wreck havoc on paper. Some solutions are to use a frame with "spacers" which elevate the glass or Plexiglas off the poster, or by having the poster matted professionally. Although I can't recommend particular framing stores in your area, here is a website that might accommodate your framing needs: www.americanframe.com Otherwise seek out a reputable local framing store.
Most of all, use common sense when handling, storing and displaying your motion picture art collection.
---
Standard poster sizes
Below, I've included some examples, but I can't guarantee that they are reliable representations of the actual items. They are pretty, though!
Lobby Card
11"x 14" (28 x 36 cm)
Also known as 'scene cards'. These cards were situated in the lobby of a theater and were originally distributed in sets of 8; they can be sold separately or in a set.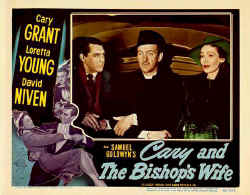 Title Card
11" x 14" (28 x 36cm)
The first card of a lobby card set. It usually has a more complete list of credits and/or more elaborate graphics.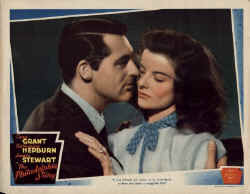 Jumbo Lobby Card
14" x 17" (36 x 42cm)
Usually photographic and unlike Lobby Cards, they are usually borderless.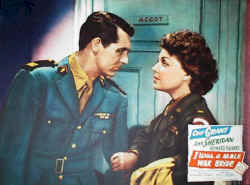 Window Card
14" x 22" (36 x 56cm)
Large white border at the top for theaters to display dates for local showings.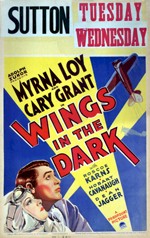 Mini Window Card
8" x 14"
Same as a window card only smaller dimensions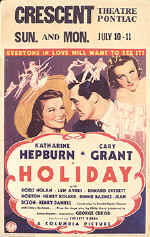 Insert
14"x 36" vertical

Half Sheet
22"x 28" horizontal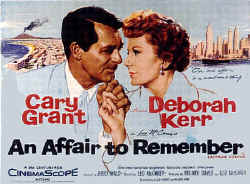 1 sheet
27 "x 41"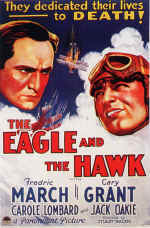 3 sheet
41"x 81"
(104 x205 cm)
6 sheet
81"x 81"
(205 x 205 cm)
Subway
Varies
Please note that foreign posters have their own standard sizes.
---
This is a general guideline:
Near Mint:
Never or hardly ever used condition. Colors are still vibrant with no marring of any kind.
Very Good:
Colors very bright, perhaps pinholes in the border. Very lightly used. No major flaws
Good:
Acceptably used condition. Traces of wear. Pinholes or tape on border. Nothing significantly wrong with the actual image. Possible minor fading or scratches
Fair:
Signs of usage. Perhaps separation along fold lines. Fading, excessive pin-holes or possible border paper loss.
Poor: Wear or damage evident. Paper loss, fading and/or marring.
---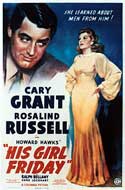 Festival Films
- This company has many facets, one of which is the sale of poster and lobby card reproductions of the finest quality. I own three of them, and they are WONDERFUL!! Festival Films
6115 Chestnut Terrace
Shorewood, MN 55331
Phone or Fax: (952) 470-2172
Email: FesFilms@aol.com
Web address: www.fesfilms.com

S & P Parker's Movie Market
- These people stock huge range of movie, TV, and celebrity photos - including quite a few Cary ones - at good prices. Send them £2.00 for their 96 page catalogue, or see their ads in appropriate British magazines (e.g. Empire).
Dept. EMP, South Western Business Park, Sherborne, Dorset. DT9 3RH
Tel: 01935-811000 ; Fax: 01935-811002 ; Credit Card Hotline: 01935-811001
Iconographics
- This company has a wide range of Cary stills and publicity photos, and also sells posters. They also have a no-charge number for folks in the states (1-800-279-9779) to get their catalogue.

P.O. Box 31107, Flagstaff, AZ 86003
Tel: (520) 522-6876
miscellaneous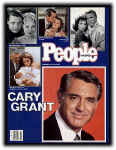 Movie Treasures of Hollywood
- They sell EVERYTHING - photos, postcards, autographs, posters etc, etc.
Church Street Station, Orlando, FL USA
Tel: (407 ) 481 0180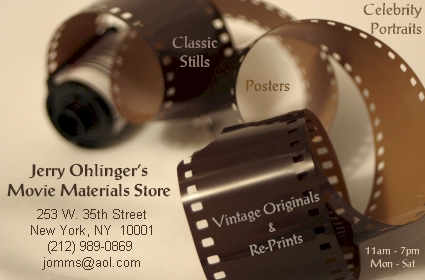 Jerry Ohlinger's
- This place also sells photos, lobby cards, scripts, magazines and autographs. They will also accept "want lists".
Movie Material Store, Inc.,
253 W. 35th St. (between 7th & 8th)
New York, NY 10001
phone: (212) 989-0869 • fax: (212) 989-1660
Open Monday-Saturday 11am - 7pm
The Nostalgia Factory
- Sells a variety of items (pressbooks, lobby cards, biographies), at good prices - one of my favorite stops on the Web. Stock seems to change fairly regularly.
51 N. Margin St., Boston, MA 02113 USA
Stage Door Prints
- A tiny store with some great gems! You have to look hard but you should be able to vintage photos of Cary as well as reprints. Also sells sheet music and pressbooks if this is what you collect!
9 Cecil Court, London WC2 UK
The Vintage Magazine
- Full of the usual "tacky" James Dean/Marilyn Monroe stuff, but with some great stills.
55 Charing Cross Road, London UK