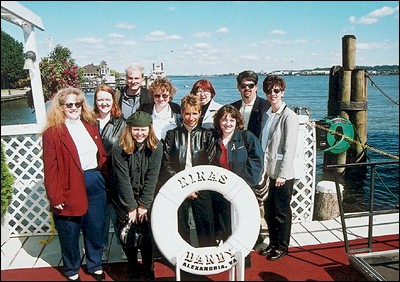 "Sunday's cruise got off to a rollicking start with some screwball antics from Vdeb driving across the memorial bridge a few too many times."
-- Jenny (Cheryl will be explaining THAT comment later!)
Ask Tina Corbin whether she thinks it's necessary to wear a seat belt when I'm driving?!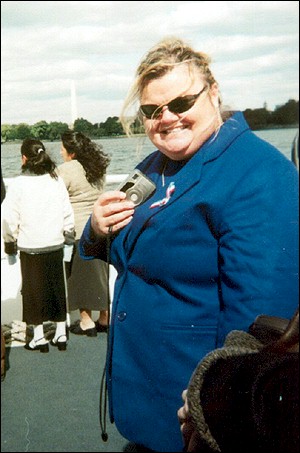 Nice picture of Tina Corbin!
Stoplight spotter extraordinaire!!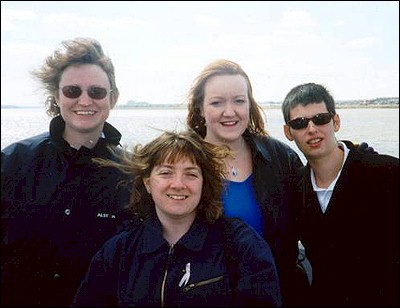 Aileen, Sarah, April & Zoe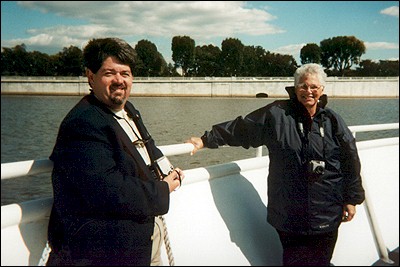 Bill & Diane
The area behind them was the place where Houseboat was filmed.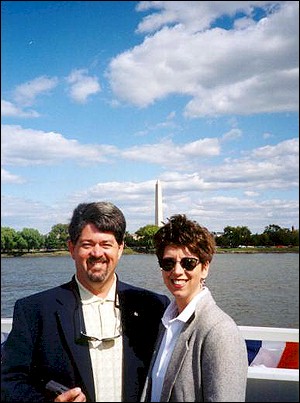 Look! There's the tall, pointy thing!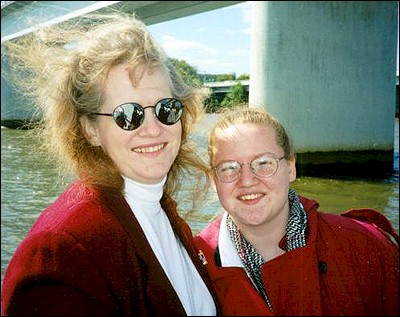 Hairy VDeb & Emily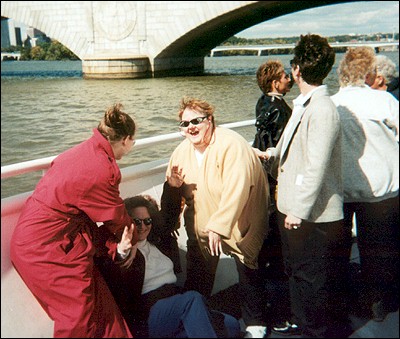 Whoever took this picture needs to be shot!!
I was standing there one second, and the next second ... Woosh!

Perhaps it was the sight of the MEMORIAL bridge that knocked me off my feet!? What do you think Cheryl? Emily?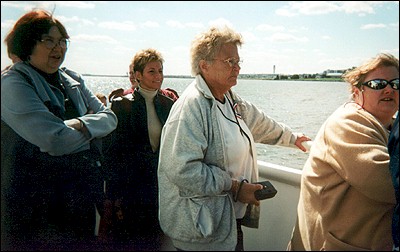 Helen, Debbie, Gladys & Cheryl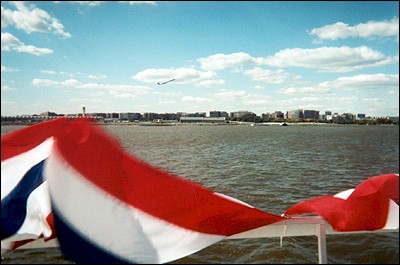 A plane takes off from Reagan National only days after it reopened.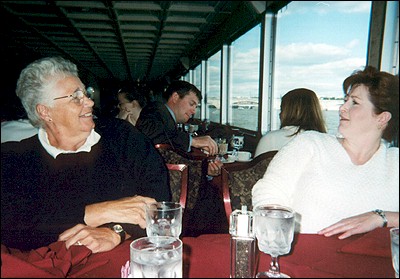 Eww! I don't want to have my picture taken with HER!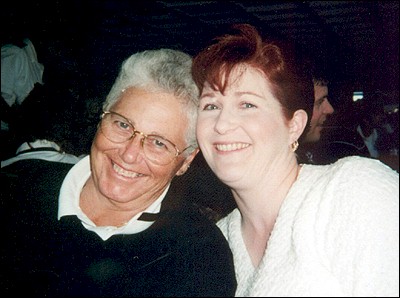 There were three mother/daughter pairs amongst us.
There were three Deb's amongst us.
There were five significant others in attendance.
(All were great sports and carried a ton of stuff for us.)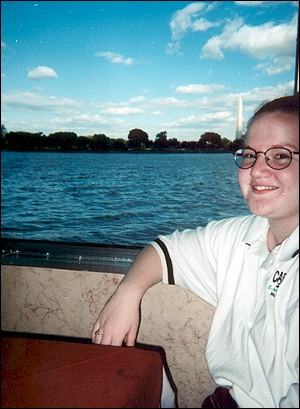 There's that tall, pointy thing again.
No matter where we went, we'd see that thing.
And who is this girl? She keeps popping up in all my pictures?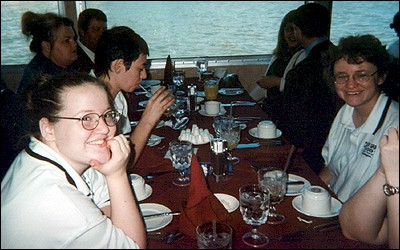 Emily, ZoŽ & Aileen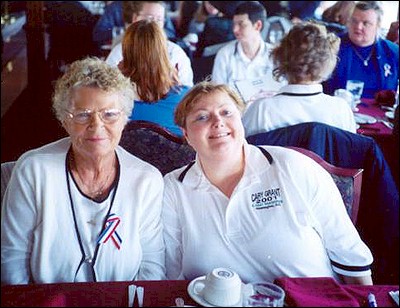 Another mom & her kid.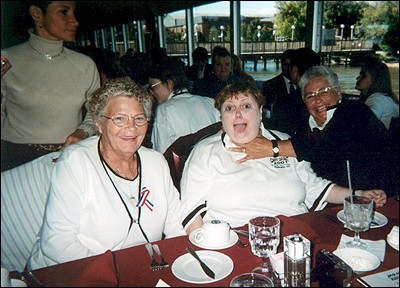 The mom on the right chokes the mom on the left's kid!
And the mom on the left smiles about it!!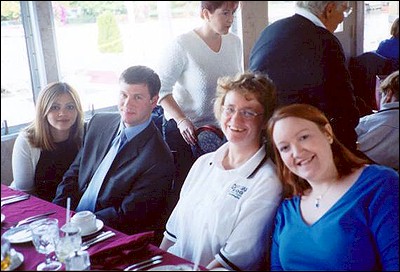 Sandy, Jason, Aileen & April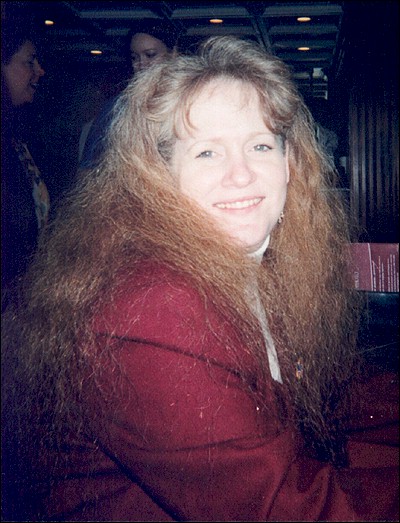 I wore my hair down, because the wind gives me a terrible earache.
BUT, then there's the combing out afterwards.
Diane looked at my hair, then she looked at my comb and she said,
"It isn't going to be easy and it's gonna hurt!"
It wasn't and it did!!
It all ended too soon! And it ended sad. As we were car-pooling to the Metro to drop off those who were on their way to the airports, the radio was announcing that the U.S. had begun bombing Afghanistan. Our brief respite from the pain of the past month came to an abrupt halt.
Debbie Moran said so well what I felt about this weekend:
Dear CV2001 Attendees-
Thank you from the bottom of my heart for this weekend together. As you may know, the events of Sept. 11 put a cloud over my spirits. I had mixed feelings about the whole Caryvention. But, each of you raised my spirits and reminded me of the good that still exists in the world. You, each, embody a true hero. Over the past several weeks, we have seen examples of amazing heroism. But, heroes do come in all forms. Someone once said that a hero is not a person without fear, but one who exhibits courage in the face of fear and sacrifices to do good for another. Each of you made the financial and emotional sacrifice to come to D.C., less than two miles from the Pentagon, to join in some fun and to be together. That makes each of you a hero. And, to Voluptuous Debbie, who for me is an angel on earth, the words "thank you" seem trite, but there is no other phrase that I know of to express my deep feelings. I enjoyed meeting everyone and it was my sincere wish that we could give to you an unforgettable time. In a post a long while back, I joked that the point of the Caryvention was really to meet Deb and I and that Cary was trivial to the whole thing. Although it was a joke, for me Cary really was trivial. It was an honor and privilege to meet each of you. Cary had a jovial, giving, kind-hearted spirit. Each of you are a testament to those same qualities and more. Be happy and be safe.
Little Deb
---
Friday:
Enter Madame
That Touch of Drink
Notorious
An …clair to Remember

Saturday:
The Philadelphia Cream Cheese Story
Merrily We Go to Hill
The All Full Truth
This is the Sights
Gunga Dinner
The Late, Late, Late Show
CaryTrivial Pursuit
Sunday:
Howsaboutaboat