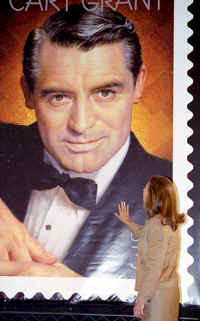 "The Cary Grant stamp will make even the most ordinary letter
seem not only first class, but also debonair."
Barbara Grant Jaynes
photo courtesy of Helen Fredericks
---
Stamp Artist Michael Deas with Barbara Grant Jaynes
While a very good artist could have presented Cary's likeness well enough, it takes an extra special gift to capture the spirit of the subject. Celebrated artist and Cary Grant fan, Michael Deas, has indeed captured Cary's spirit in this stamp. Michael Deas has other U.S. Postal Stamps to his credit, including Marilyn Monroe, James Dean, Humphrey Bogart and Thomas Wolfe. Mr. Deas has won four Gold Medals and one Silver Medal from the Society of Illustrators, and is perhaps best known for painting the current Columbia Pictures logo (the lady holding the torch).
---
---
September 23, 2002
CARY GRANT POSTAGE STAMP
TO BE FIRST-CLASS TRIBUTE TO HOLLYWOOD'S LEADING MAN
WASHINGTON – One of film history's most witty and debonair leading men will receive one of the nation's highest honors when a new commemorative postage stamp is issued by the U.S. Postal Service on Oct. 15 in Hollywood, Calif.
The 37-cent Cary Grant stamp will be issued at a 10:30 a.m. first day ceremony taking place in the ArcLight Cinema at 6360 W. Sunset Blvd. The ceremony will be free and open to the public.
"The Cary Grant stamp is a wonderful addition to the Legends of Hollywood series," said S. David Fineman, vice chairman of the presidentially appointed Postal Service Board of Governors, who will dedicate the stamp. "He will long be remembered for his charming and sophisticated manner in his many roles on the silver screen."
Born Archibald Leach in Bristol, England, on Jan. 18, 1904, he joined a troupe of performers as a teenager and came with them to the United States in 1920. He performed on the vaudeville circuit during the early 1920s. During the late 1920s he appeared on the Broadway stage, and in 1931 he was hired for his first screen performance in Singapore Sue, a one-reel film released in 1932.
Also in 1932, using the screen name Cary Grant, he appeared in his first feature film, "This is the Night." On June 26, 1942, he became a U.S. citizen and legally changed his name to Cary Grant.
Grant was best known for starring in romantic comedies such as "An Affair to Remember" (1957). He was often teamed with some of Hollywood's most prominent leading ladies, including Katharine Hepburn in "Bringing Up Baby" (1938) and "The Philadelphia Story" (1940) and both Ginger Rogers and Marilyn Monroe in "Monkey Business" (1952). He also starred with Grace Kelly in "To Catch a Thief" (1955) and with Audrey Hepburn in "Charade" (1963).
Grant demonstrated his versatility as an actor throughout his career. In 1941 he played an enigmatic villain in the Alfred Hitchcock film "Suspicion." He went on to star in other Hitchcock films, including "Notorious" (1946) with Ingrid Bergman and "North by Northwest" (1959).
Grant received two Academy Award nominations for best actor: one for "Penny Serenade" (1941) and another for "None But the Lonely Heart" (1944). On April 7, 1970, at the 42nd Academy Awards, Frank Sinatra presented Grant with a special Oscar bearing an inscription that read: "for his unique mastery of the art of screen acting with the respect and affection of his colleagues." In 1981 he was a recipient of the Kennedy Center Honors.
Cary Grant died in Davenport, Iowa, on Nov. 29, 1986, at the age of 82, while on a speaking tour. In 1999, when the American Film Institute announced its list of the 50 greatest American screen legends, Grant was ranked second among the top 25 men.
The portrait of Cary Grant in the stamp art, an oil painting by Michael J. Deas of New Orleans, La., is based on a black-and-white publicity photograph made in 1951 or 1952 by Warner Bros. photographer Bert Six.
The self-adhesive stamp will be available in a pane of 20 stamps. A photograph in the pane's selvage shows Grant being chased by a crop duster in a famous scene from the film "North by Northwest." In that film, Grant played Roger Thornhill, an advertising executive who is mistaken for a spy. The photograph was altered for dramatic effect: the crop duster has been repositioned and clouds have been added to the background.
Grant joins seven other honorees appearing on stamps in the Legends of Hollywood series: Marilyn Monroe (1995), James Dean (1996), Humphrey Bogart (1997), Alfred Hitchcock (1998), James Cagney (1999), Edward G. Robinson (2000) and Lucille Ball (2001).
To see the Cary Grant stamp, go to on the Postal Service's Web site at www.usps.com and select "News and Events" then "Philatelic News" and open the online version of this news release.
Current U.S. stamps, as well as a free comprehensive catalog, are available toll free by calling 1 800 STAMP-24. In addition, a selection of stamps and other philatelic items are available in the Postal Store at www.usps.com.
Since 1775, the U.S. Postal Service has connected friends, families, neighbors and businesses by mail. It is an independent federal agency that visits 137 million homes and businesses every day and is the only service provider to deliver to every address in the nation. The Postal Service receives no taxpayer dollars for routine operations, but derives its operating revenues solely from the sale of postage, products and services. With annual revenues of more than $65 billion, it is the world's leading provider of mail and delivery services, offering some of the most affordable postage rates in the world. The Postal Service delivers more than 46 percent of the world's mail volume—some 207 billion letters, advertisements, periodicals and packages a year—and serves 7 million customers each day at its 40,000 retail locations nationwide.
TECHNICAL DETAILS
Issue: Cary Grant
Item Number: 452900
Denomination & Type of Issue: 37-cent Commemorative
Format: Pane of 20 with selvage(1 design)
Series: Legends of Hollywood
Issue Date & City: October 15, 2002,
Los Angeles, CA 90001
Designer: Carl Herrman, Carlsbad, CA
Art Director: Carl Herrman, Carlsbad, CA
Typographer: Carl Herrman, Carlsbad, CA
Illustrator: Michael Deas, New Orleans, LA
Modeler: Donald H. Woo
Manufacturing Process: Gravure
Engraver: Southern Graphics
Printer: Sennett Security Products (SSP)
Printed at: American Packaging Corporation, Columbus, WI
Press Type: Rotomec, 3000
Stamps per Pane: 20
Print Quantity: 80 million stamps
Paper Type: Phosphored, Tagged
Gum Type: Pressure Sensitive
Processed at: Unique Binders, Fredericksburg, VA
Colors: Magenta, Yellow, Cyan, Black, PMS 8421, Black
Stamp Orientation: Vertical
Image Area (w x h): 0.84 x 1.41 in./21.34 x 35.81 mm
Overall Size (w x h): 0.99 x 1.56 in./25.15 x 39.62 mm
Pane Size (w x h): 8.57 x 7.208 in./217.68 x 183.08 mm
Plate Size: 120 stamps per revolution
Plate Numbers: "S" followed by six (6) single digits
Marginal Markings: "Ó 2002 USPS" · Price · Plate numbers in four corners · Plate position diagram · (2) UPC codes on reverse side
Catalog Item Number(s): 452920 Block of 4 — $1.48
452930 Block of 10 — $3.70
452940 Full pane of 20 w/plate no. — $7.40
452961 First day cover — $0.75
452962 First day cover – Full Pane — $9.90
452984 Press sheet — $44.40
452993 Full pane w/first day cover — $8.15
452997 Panel — $8.75
---
Friday, February 8, 2002
At the Philatelic Convention in Riverside, California, the Postal Service officially announced that it will be issuing a commemorative postage stamp honoring Cary Grant later this year.
---
Monday, July 15, 2002,
"Access Hollywood"
the Cary Grant Commemorative Stamp
was unveiled to the public.


Click on image to view short video
A Great Big Thanks
Jay Faulkner & Cheryl Trahan
for the Video Clip!!
---
October 15, 2002