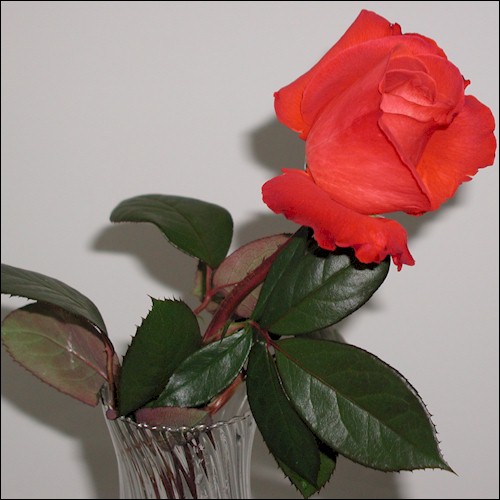 The Cary Grant Rose
A beautiful long stem rose whose color lies between red and orange with a fragrance that fills the air even as the petals fall from the bloom may best describe this lovely flower.
It is a hybrid plant that is sturdy and disease resistant. The blooms, when fully opened, are most often as big as the fist of a man. The stems are so sturdy that they easily support this size bloom with no difficulty. The only draw back is that this plant sports the biggest and sharpest thorns I have ever seen and it is the wise gardener that cares for these flowers wearing good leather gloves. This rose is easy to care for and with sufficient water and a little fertilizer every seven to eight weeks they will reward you with lovely blooms that may be cut and used inside your home.
In warm climates the Cary Grant Rose blooms from late February until November or December and has to be forced into resting by cutting them back to about ten inch stems and stripping all the leaves off. In approximately six to eight weeks the bush will begin to show its growth. Wayside Gardens describes this rose as "blossoms of burning orange washed in red". You may access their site at www.waysidegardens.com and you may request a rose catalog free of charge. They do not ship outside of the United States and, I believe that the only foreign country that this rose is found is in the rose gardens of Monaco. They were sent to be put into Princess Grace's rose garden in her memory.
The Cary Grant rose was commissioned by Cary Grants fifth wife, Barbara Harris Grant, for her husband as a Valentine gift in February of 1986 and were planted along the driveway of their home. Its bright red-orange color was a favorite color of Cary Grant.
Photo & Commentary submitted by:
Diane C. Parker
Thanks Diane!!

This site has some good info about the rose:
http://helpmefind.com/sites/rrr/pl.php?n=1008
http://www.sheridangardens.com/Roses/roses_roselistpage4.htm