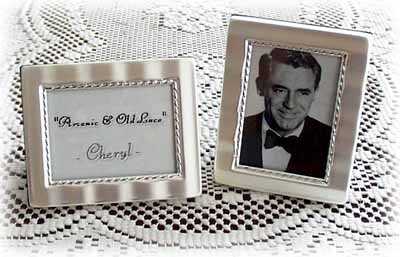 ---
You've just pulled up in front of an elegant club in an exclusive, older section of town. The uniformed doorman opens the mahogany doors. Fragrant aromas waft forth & the soft music from "An Affair to Remember" envelopes you. The walls are covered with posters and lobby cards; Posters and lobby cards from each and every Cary Grant movie, that is. There are large tables throughout the club. Tables meant for groups of friends to meet and enjoy.
In all there are 72 tables. If you glance at a few of the tables, you will notice that each one is decorated in the theme of a Cary Grant movie. The one in the corner with the typewriter on? That's the 'His Girl Friday' table. The table with the knitting needles and all those balls of wool? That's the 'Mr. Lucky' table. If you're feeling peckish, there's a bowl of California, errr Florida, oranges on 'The Awful Truth' table. Over to the left, toward the back, watch your step. There's a lower level and you can just see there's a table there, because of the periscope peeking over the top of the banister. I'm not sure, but I think that's the 'Destination Tokyo' table. Oh, wait a second, the periscope is painted pink - that's 'Operation Petticoat.' I assure you, 'Destination Tokyo' is around somewhere, you just can't see it at the moment. You might find the table at the back a little confusing, the one with the plank of wood leaning against a jukebox? That's 'Kiss Them For Me.'
Anyway, feel free to just wander round and sit at any of the tables which takes your fancy. You'll always find someone to chat with. Each table has a hostess to fill you in on all the gossip. That's Ann Sheridan waving from the table with the little haystack on it. Some of the hostesses can take things fairly easy, others have a bit more to do. Irene Dunne enjoys flitting between The Awful Truth, My Favourite Wife and Penny Serenade. She always stops to banter with Katharine Hepburn and you can hear their laughter all over the Club sometimes. Myrna Loy's tables are always so elegant and well decorated, and she often takes time out to see to the children. There she is now with George Winslow and that small boy playing with a caterpillar.
If you want anything to drink, there is plenty on offer. We have crates and crates of pink champagne. And there's some whisky around somewhere if we can just find the bottles. Leslie Caron will keep hiding them in the most awkward places. There's also some rather tasty elderberry wine which has a bit of a kick to it. You may want to stay away from the water cooler though. We found Esther messing with it a couple of days ago, closely watched by Asta.
You'll find the 72 Club is a great place to relax. There is always some wonderful music playing - lots of Cole Porter of course. Some other tunes you may recognize: "My Dreams Have Gone With the Wind" always has people singing; Mae does a great rendition of Frankie and Johnnie every once in a while.
And, of course, overseeing it all is your elegant and sophisticated host, Cary Grant. His aim is to see that you are happy and comfortable and make your stay a happy and memorable one. He's always on hand for a chat, and will be happy to sit for a while and charm your socks off.
The Speakeasy is an exclusive spot for those who've collected all 72 of Cary's movies. Let me introduce you to some of our members.
First of all, there's Debbie at the "Holiday" table. Once Katharine has finished showing her how to do somersaults, you should go over and say hello.
Donna is the one drinking an egg nog at "The Awful Truth" table and playing with Asta. I wonder where he got that bone from?
Cheryl is over at the "Arsenic & Old Lace" table. "NO! CHERYL! DON'T TOUCH THAT WINE!!!"
Isn't that LeeAnn sitting over at "The Philadelphia Story" table with an orange juice in front of her and a dreamy smile on her face?
The lady sitting over at the table with the blueprint tablecloth is Sharron; I can't tell, but I believe the centerpiece at that "Mr. Blandings" table is an artfully arranged grouping of rabbited lallies.
Mary Kate is crooning with Deborah Kerr at the "An Affair to Remember" table. Tomorrowland never sounded so good!
Diane has just entered the Speakeasy! She'd like a seat at the "Indiscreet" table, if you please, and will be waiting for a handsome partner to dance the eightsome reel. Dorothy's just come in with a saucy attitude and a spring in her step. She's immediately spotted Diane and sashays over join her. Is that a left-handed violin Dorothy is carrying?
What game is Selena playing over at "That Touch of Mink" table? Without television, one never knows how she'll entertain herself in the evenings!
Jenny is standing near the "His Girl Friday" table tossing olives into the air with her mouth gaping open trying to catch them. Oh! One just bounced off her nose! She seems to have misplaced her purse, has anyone seen it? Maybe that nice German psychiatrist has it? He doesn't look like the sort to bandy words about, though. Mustn't worry, because everything's going to be all right!
Warming herself over there by the Alpha Oven is Bev. She's waiting for Cary to walk in. That's when things will really start heating up and the "Amazing Adventure" begins!
Don't worry that the lady wandering from table to table is a party crasher. It's Pat, and she just can't decide which table to claim. I thought for a moment she'd enjoy a sip of wine with Cheryl, but then she disappeared over by the "Topper" table. Now she has an orange under her chin and is trying to pass it off to the good looking waiter near the "Charade" table. I wonder where she'll wander next?!
Has anyone noticed the mysterious fellow, Jack, surreptitiously checking the labels of all the wine bottles in the Speakeasy? And why does he keep tossing that set of keys up and down, up and down, in his hand. There's a rumor going 'round that he's a "Notorious" spy!
Did anyone hear Jen arrive? She crept in so quietly, no one noticed. That's her over there at the "To Catch a Thief" table quietly perusing a list of highly insured jewels while waiting for "The Cat" to sweep her off her feet.
"Beep-Beep-Beep!" I sure do wish that Nancy would keep things down a bit over there at the "People Will Talk" table. First she was conducting a group of musicians, next she was demonstrating the fine art of milking a cow, and now she's rerouting the miniature train set through the legs of the other tables. "Beep-Beep-Beep! Everyone watch their steps!"
If you drop by Irina's table, it may take a moment to get her attention. She's absently sipping Piper Heidseick 1942 as she reads from the extensive list of personal information she's compiled about her favorite fellow. Nothing will deter her from memorizing every last detail, because sometimes a girl has to take drastic measures to get her man!
Who's that just entering the Speakeasy with her pant legs rolled up and a potato sack thrown over her shoulder? Why it's Audrey! "Mellow greetings, Audrey! You know, Audrey, you remind me of a man ...."
That lady carrying the heart-shaped box of Valentines who can't seem to decide which table to sit at? That's our Tonya who fell in love with Cary one cold Valentine weekend and just can't be forced to decide upon only one favorite Cary movie. She loves so many of them, because ... sigh ... HE is in them all!!
Scott, with images of Grace Kelly, the Riviera, chicken picnics and midnight robberies in his head, requests a seat at the "To Catch A Thief" table....with many thanks and a tip of the hat to John Robie, T. Devlin, Roger Thornhill and all of the other amazing men that came into his life through the dazzling art of Cary Grant. "Cary, my friend.....thank you."
"I can't give you anything, but love, Baby!" croons a ditzy Shari as she enters the Speakeasy tugging on a very taut leash. "Come, Baby ... Let me introduce you to a few friends."
Here comes Jennifer, up from digging another lock for the canal. Put your shovel down and rest at the Arsenic and Old Lace table. But whatever you do, don't quench your thirst with a sip of that wine!
Karl is making an absolute spectacle of himself in that negligee as he joins Shari in an attempted duet of "I can't give you anything, but love, Baby!" Can someone please send some appetizers over to that table? Quickly!
Can it be?! Look who just walked through the door hugging a pair of ice skates to her breast! All the way from Hungary, it's Jerelyn! After a quick look around the room, she demurely asks for the blessing of sitting with the Professor at "The Bishop's Wife" table.
Philippe stands at the North by Northwest table, taps his glass and asks those in the room to lift their glasses in memory of Bruce Rudesill. A tearful swell of "Hear! Hear!" fills the Speakeasy. So many in this room owe the completion of their collections to Bruce.
That lady who seems to be wandering between tables is Jacqueline. She was first spotted with indiscreetly tapping her toe with Diane and Dorothy. Next someone spied her over with Jack, asking him about those keys he's notorious for tossing about. Right now she's with Philippe checking train schedules for her trip north (or was she heading northwest?), but it appears as if she's on her way over to share a picnic of fried chicken with Jen now. With so many choices and so many wonderful folks to chat with, sometimes it's just so difficult to decide which table to choose!
Check out Tammy at the "Notorious" table savoring each bite from an elegant dish of ice cream. A scoop of Haagen Daz chocolate/chocolate chip ice cream and one scoop of vanilla Swiss almond, smothered with serious hot fudge, perfect cashews, a tad of warm butterscotch, and a maraschino cherry ... on the bottom. She's saving that cherry for the very last moment.
Rebecca leans over to ask Tammy if she'd mind a bit of company at the "Notorious" table which is reminiscent of a sidewalk café in Rio. When the waiter stops by to take Rebecca's order, she glibly announces, "Make mine a double!"
"Beep! Beep! Beep!" make room for Karen at the "People Will Talk" table, though I don't think she'll be staying there long. She's sure to wander from table to table, maybe stopping by the "Bishop's Wife," or "Father Goose," or "Charade," or "To Catch a Thief." I just don't know where Karen will end up!
---
Are YOU a member of
THE 72 SPEAKEASY
Have you collected ALL of Cary's 72 movies???

PLEASE, tell me your story!!
Will you fill in a little bit of blurb about your favorite film,
what you especially like about Cary Grant,
how you started collecting,
when you started collecting,
how long it took to collect all 72,
what other Cary Grant memorabilia you have,
what table you would be found at in the Club and doing what....
---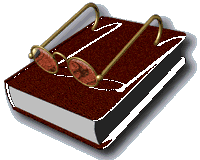 Want to read the others' stories??