Submitted by Donna Moore
---
2nd Place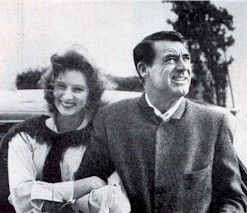 "Why did Suzy have to Parker carcass next to me?"
Submitted by Laura Collins
---
3rd Place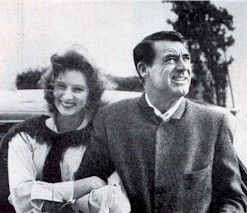 Cary: "When they asked me if I wanted to take part in a tree hugging ceremony, I had no idea THIS was what they meant."
Submitted by Donna Moore
---
Other captions submitted:
"Ah... I hope it doesn't rain."
---
"How do you get her off?"
---
"What is she doing? Trying to break my arm?"
---
"And I thought I was going to launch HER career?"
---
Suzy: "I just know he will want to marry ME"
---
"Woodn't yew know, she's stuck on me!"
---
"Did I really say 'I Do?'"
"I can't believe that I did say 'I Do!!!'"
---
"Thank Goodness the shooting is finished!
Now what do I do with HER?"
---
She is saying: (Boy do I have a great catch here!)
He is saying: (Why did I have to listen to my father this time?)
---
"Why does every woman in Hollywood have to have long fingernails?"
---
"My tips on how to get your man? Get plenty of exercise, go to
bed early, eat healthily, and practice a vice-like grip."

---
"When would be the time to tell her I've just pee'd all over her
shoes?"

---
"Wood yew get her off me......please!"
---
"You mean this is permanent fixture doc?!"
---
Suzy P: singing to herself the wedding march
"Here Comes the Bride, Here Comes the Bride"
Cary Gorgeous Grant: thinking to himself
"Oh My Goodness! Is that church bells I hear?
No, No, not again!!!!"
---
Suzy: with clenched teeth under the smile
"He thinks he can get away from me, well I will just hold on a little tighter"

Cary: with clenched teeth
"Can someone please help me--I can't feel my fingers!!

---
"Hello up there Sir....
Please help me, her wooden splinters are digging into me!"
---
[Suzy thinks:] "You're right, the smile in this picture IS more emotion
than my entire performance in KISS THEM FOR ME!"

---
"Didn't she use Deodorant this morning?"
---
"What did she have for lunch? Onions?"
---
"I say, I'm getting splinters in my arm!"
---
"Then again, perhaps I'm NOT too old for Audrey!"

---
"If I can just find a jukebox to lean her against..."
---
"Audrey Hepburn... Katharine Hepburn... Grace Kelly... Suzy Parker... One of these things is not like the other, one of these things just isn't the same..."
---
"Gosh is she gonna pull my arm off??"
---
Cary Grant oh so graciously tries to transmit charisma through osmosis.
---
"WHO does she think I am?!!! Cary Grant?!
Oh, that's right, I AM Cary Grant."
---
Talking to the guy he's looking up at,
"Have you ever had one of these?"

---
"Honey, looks like rain. We better get you in before you mildew."

---
"Honey, that woodpecker is still following us!
We better get inside before he finds a place to perch."
---
Cary, looking to the horizon, says in a most compassionate tone,
"Oh honey, they are chopping down another tree over there.
I am sorry you had to see that. Thatta a girl, keep that brave face"
---
"Oh, I think he is the most wonderful man that I know," she says.
"How can I get rid of this girl?" he says.
---
"Maybe if I turn my head like this, no one will recognize me. "
---
"Maybe if I hold on tight enough, his talent will rub off on me."
---
"Would you PLEASE....Kiss her for me!"
---
Cary: "Jeff, Happy birthday! I hope someone else brought the napkins because I brought the toothpick!"
---
Many thanks to all of the participants in this contest: Diane, Crystal T., Sharron, Gina Ward, Cheryl Trahan, Donna Moore, Aileen Mackintosh, Tina C., Selena Richardson, Traci Martin, Rhea, April Parrish, Joy U., Laura Collins, and Jeff Lang.