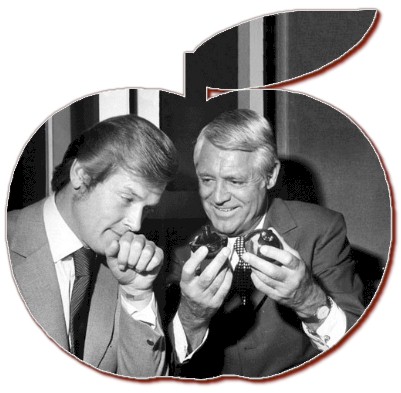 Submitted by Debby Schwenson
---
2nd Place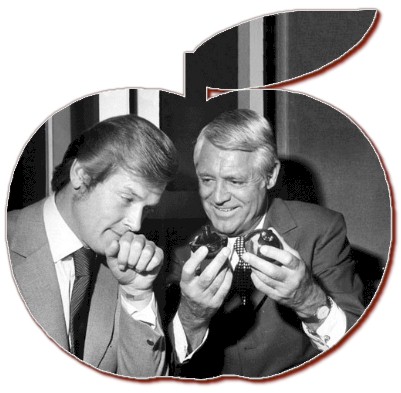 "Roger is saying "Yes, it smells nice Cary, but do you really think the name 'Chanel Number Eau Eau Seven' will catch on?""
Submitted by Donna Moore
---
3rd Place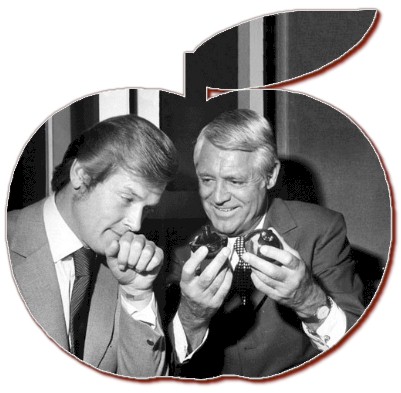 Cary: "What in the heck is this??"
Rodger: "Well I'm just guessing but it could be a dual compact salt and pepper shaker with removable top and a non-clogging outlet that circles when it is rotated and has an accessible knob at the top...but I am just guessing."

Submitted by Nicole Cartier
---
Other captions submitted:
"Here you are 007.
THIS will make you more popular than Sean Connery."
---
"Cary, I told you the formula should be shaken not stirred.
This stuff pongs."
---
Roger is saying into his secret James Bond microphone ring
"Q, I'm afraid that Cary has pulled the pin......
Where's that ejector seat when I really need it?"
---
"And they think this stuff smells GOOD??"
---
Eggstrodinary!
---
And you thought the women flocked to you before?
---
Take a wif of a million dollars!
---
Give this to your Bond Girls!
---
You made how much on this???
---
CG: Honest, Rog, it's not a bomb
RM: It looks like a bomb
CG: That's not a bomb....
CG: That looks like a bomb!
---
"007 to Q, come in Q. I think we have a solution to the problem that'll cause a real stink ........ perfume bombs!"
---
"Do you think Sean Connery smells this good?"
---
'It's a Fabergé Egg, Q!'
---
Cary- " Honest, with this you'll never spend another night alone!"
And you can have it for only a hundred bucks!
---
CARY: "Now remember, THIS is the explosive and THIS is the detonation device."
---
Cary: "Ah, come on Rog, I know you really want to borrow 'em!
They're great!"
---
Cary: "I'll sell 'em to ya really cheap -- you can't go wrong!
It's the purchase of a lifetime!"
---
Roger, to himself: "Please, Cary, I really don't want to know what those things are or what you did do with them..."
---
(Roger thinking to himself) "Thanks for sharing..."
---
"Hmmmmmm, yes Cary, sure, I believe you..."
---
Roger thinks: "Well, they can't ever say that Cary Grant leads a dull life!"
---
"With four ex-wives, this is all they left me."
---
Cary: So 007 tell me, do you think this will help win the war?
---
Cary: Hey Rog, what do you think of this then!
Roger: Erm, you really have a lovely pair there....!
---
Roger: What a lovely pair you have there Cary....!
Cary: Oh pay attention Roger (in the style of Q to 007)....
---
Uh Hmmm .... Cary are you sure it will keep Suzy Parker away?
---
Cary: See I told you these atomizers are great.
Roger: (coughs) Yeah they might be great but what about the contents!!!!!!!
---
Roger Moore is thinking: "Good grief, this Faberge cologne smells horrible! I wonder how many of these he had to sell before they gave him the private jet?"
---
Wowee that stuff is good!
---
Many thanks to all of the participants in this contest: Donna Moore, Cheryl Trahan, Gina Ward, Diane Parker, Aileen Mackintosh, Esther Park, Chris Darley, Debby Schwenson, Brit, Kristen, M.T. and Nicole Cartier.