Plot:
- by Zoë Shaw
Sherman's submarine is badly damaged while anchored near Manila, but he is determined to sail his ship again. They dock the sub in the nearest dry dock, Port Darwin. They get the ship on its way, but at the first stop they have to take some ladies on board. These ladies cause problems with the running of the sub....

Review:
- by Laila Valente
This is a movie you can see again and again and never get tired of it. In this 124 minutes you have everything you may desire from a great piece of entertainment: an improbable story of a pink submarine on its way home; more than one bombing and a sinking; a bit of a true old-fashioned romance between the crew and the rescued women; the New Year's Eve on the deck of a submarine; a great director; Tony Curtis; and Cary Grant at his best. Blake Edwards is skilled enough to manage a more-funny- than-silly story and take the best from his actors. (He'll use this experience to make his masterpiece, "The Pink Panther".) Tony Curtis is quite a bit younger than Grant and as the movie goes, you can feel and see the admiration for the "older", drawing-room acrobat. Cary Grant is, once again, a master in getting a laugh without any speech, using just the way he moves and looks, as he did in "The Awful Truth" or "Arsenic and Old Lace." When the movie ends, you'll probably think that as soon as there will be another 124 minutes, I'll watch it again.

VARIETY Film Review - September 30, 1959
- by "Powe"
- submitted by Barry Martin
Already set as the Radio City Music Hall's Christmas attraction, Universal's "Operation Petticoat" is a slick holiday attraction that will attract top boxoffice. It has no more weight than a sackful of feathers, but it has a lot of laughs and the kind of situations that create good word-of-mouth. The stars, Cary Grant and Tony Curtis, are excellent. Produced by Robert Arthur, the film has been directed by Blake Edwards with a slam-bang pace.

Comedies about the armed services, especially when the setting is wartime, ask a certain suspension of reality. "Operation Petticoat" demands total suspension. The time is December, 1941, and the locale is the Philippines. For anyone old enough to remember what was going on there just 18 years ago, it is not the ideal setting for tricks and jokes. It might have been better to use fictitious place names, as Tom Heggen did in "Mr. Roberts."

Accepting this convention, however, that there can be comedy in chaos, Stanley Shapiro and Maurice Richlin (who wrote "Pillow Talk") have taken a story by Paul King and Joseph Stone and made a bright, diverting script of it. This team is equally good at a comedy line or a gag situation.

Cary Grant is the commander of a wheezy old submarine which he gets underway and operational through his conniving junior officer, Tony Curtis. In a series of improbably but acceptable situations, the sub takes on as passengers five army nurses, a couple Filipino families (including expectant mothers) and a goat. Some of the situations are predictable, such as those arising when chesty nurses meet seamen in a sub's narrow corridors. But Edwards' direction is light-handed and what risqué material there is gets tasteful handling.

For some reason, "Operation Petticoat" is shot with an opening and closing flashback. The comedy runs more than two hours and could be cut. These scenes don't mean much, although otherwise the film is rich in humorous device and most of it plays well.

Cary Grant is a living lesson in getting laughs without lines. In this film, most of the gags play off him. It is his reaction, blank, startled, etc., always underplayed, that creates or releases humor. Tony Curtis is a splendid foil, one of the two or three best young comedians around, and his different style of playing meshes easily with Grant's. Arthur O'Connell gives a solid performance and others who score include Joan O'Brien, Dina Merrill, Gene Evans and Dick Sargent.

David Rose's score is especially bright, helping the comedy without getting coy. Russell Harlan's Eastman color photography is top-drawer and other technical credits are fine.

NEW YORK TIMES Film Review - December 6, 1959
- by Bosley Crowther
- submitted by Barry Martin
The assertion of those "South Pacific" Seabees that there is "nothing like a dame" to occupy the interests of men plagued by the tediousness of war is frantically illustrated in the Music Hall's Christmas-show film, "Operation Petticoat," which opened there yesterday. Along with the annual "Nativity" tableaux and the Columbus Boy-choir on the stage, it will edify audiences in that area until after the holidays.

The thesis is aptly demonstrated: Five shapely Army nurses are placed in a Navy submarine already crowded with an aggressively masculine crew that is trying hard to work it from the Philippines to Australia in the first few weeks of World War II. Comdr. Cary Grant has grave misgivings. He's glad to save the nurses, if he can. "It's just that a submarine is not designed to be co-educational," he explains.

And that is the obvious complication upon which are pointedly based at least 60 per cent of the witticisms and sight gags in the film. How to berth the nurses in the exceedingly limited space, how to explain to them the functioning of the bathroom facilities, how to compel the sailors to keep their well-diverted minds on their work - these are the endless petty problems that vex Commander Grant.

There's the matter of Lieutenant Crandall. She has a particularly interesting shape, which she cannot conceal completely in a borrowed shirt and jeans. Commander Grant issues a stern order. "When Lieutenant Crandall walks through any part of this boat, see that she gets free passage." The order is not too dutifully obeyed.

So it goes for nigh on two hours. There is more than a Japanese blockade to be run by the crippled Sea Tiger before she can get back in the war.

And when Commander Grant isn't worrying about his quintet of passengers he is usually concerned with the activities of one of his junior officers. Often he has to tussle with both problems at the same time. The junior officer is played by Tony Curtis and he is full of elaborate ideas. Fortunately this young fellow, like Luther Billis, has ability to scrounge, and it is this, plus phenomenal ingenuity on the part of the engineer and scriptwriters, that get the Sea Tiger home.

If the passage becomes repetitious and a trifle monotonous, indeed, blame it on the self-intoxication of the writers and Director Blake Edwards. They were evidently rendered more giggly by the gags than is the audience. The situation is not sufficient for extension over two hours, despite the personableness of the actors and the prettiness of the color film.

Mr. Grant, Mr. Curtis, Arthur O'Connell and Gene Evans are brisk among the males, and Dina Merrill, Joan O'Brien, Madlyn Rhue, Virginia Gregg and Marion Ross make cozy girls.

There may be a certain sound of crudeness about this Universal - International comedy, but we assure you there's nothing in it that will shock or surprise a pink-cheeked child.

Review
Click here to read Jenny's Crackpot Reviews at the Cary Grant Shrine

Hi Debbie,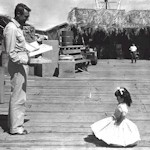 I found this interesting website about Key West and there is a lot of information and photographs about the filming of 'Operation Petticoat' I have attached my favourite photograph from that website. You might recall the story of the little girl who got a small part in the movie but was very upset when she found out she had to wear rags. Apparently Cary heard about it and bought her a little pink dress and attached is the photograph to prove it.
I enjoyed reading about the background to Mr Blandings on carygrant.net so maybe you might be able to use some of the information on this website about Operation Petticoat. Here is the link: http://moviesmadeinkeywest.com/english/Operation_Petticoat/operationpetticoat.html
Regards,
Dorothy (Glennon)
Dorothy, you are such a treasure to CaryGrant.net!! You find the most delicious tidbits! Thanks for all your invaluable help with the site!!
---
<< Back to Reviews
| Top of Page