Plot:
- by Zoë Shaw
David is trying to get some money for his museum. He also has one last dinosaur bone to put in place....He meets Susan, a rich young girl, with a newly acquired pet leopard. Things go from bad to worse when her aunt's terrier buries David's precious bone. ..and so it goes. Needless to say, they fall in love!
Review:
- by Jerelyn Stanley
Bringing Up Baby is another of those wonderful films not fully appreciated at the time of its release, but it has proven itself to be one the the best and funniest of all the screwball comedies of the 1930's and 1940's. Katharine Hepburn plays the only real slapstick role of her career in this film, and she is wonderful! Cary Grant shines as the stuffy zoologist she meets and decides to win. Grant sees her as nothing but bad luck, which she seems to be!
Hepburn uses a pet leopard named Baby to trick Grant into coming with her to her country house instead of to his wedding. Her dog steals his valuable fossil bone which he is taking back to the museum where he works to finish up the skeleton he has been working on for years, and so he can't leave until they find it.
Baby gets away, there is a wild chase and they end up in jail...but it has a happy ending, with Hepburn and Grant ending up together in the end.
This movie is full of crazy characters and really bright and funny dialog which makes it very entertaining. The singing they have to do to keep Baby happy is hilarious!! This is a movie worth watching over and over.
VARIETY Film Review - February 16, 1938
- by "Wear"
- submitted by Barry Martin
This barum-scarum farce comedy is Katharine Hepburn's first of this type. Opposite her is Cary Grant, who is perfectly at home as a farceur after his work in 'The Awful Truth.' Picture is moulded along same lines and is definite box office.
'Bringing Up Baby' is constructed for maximum of laughs, with Ruggles and Catlett adding to the starring team's zany antics. There is little rhyme or reason to most of the action, but it's all highly palatable.
Wacky developments include pursuit of an heiress after a zoology professor who expects to wed his femme assistant in the museum on the same day he plans to complete a giant brontosaurus; a pet leopard, 'Nissa,' who makes a playmate of 'Asta,' the redoubtable Scotch terrier; a wealthy woman who may endow the prof's museum with $1000,000; an escaped wild leopard from the circus; a stupid town constable; a forgettable ex-big game hunter; a scientifically-minded brain specialist; and a tippling gardener. Under Howard Hawks' skillful pacing it is an hilarious farce.
Katharine Hepburn, as the heiress who goes after her man once she spots him, contributes one of her most invigorating screen characterizations as a madcap deb. Cary Grant, the zoology prof, who thinks more of recovering the priceless missing bone for his uncompleted brontosaurus than his impending wedding and the companionship of the playful heiress, performs his role to the hilt.
Ruggles, as the former African game hunter, does wonders with a minor characterization brought in late in picture. May Robson, obviously out of her element here, provides a few sober moments to the mad proceedings, being as effectual as ever. Catlett gives an expertly comic portrayal of the constable. Fritz Feld is the brain specialist and excellent support is furnished by Barry Fitzgerald, Tala Birell, John Kelly and the animal actors.
Hagar Wilde's story has been neatly scripted by himself and Dudley Nichols. Developments are paced by sizzling dialog. Chief shortcoming is that too much time is consumed with the jail sequence. It diverts interest from the attempt to locate the missing pet leopard and dog. Prime reason for it, of course, is that it gives Miss Hepburn a chance to imitate a gunmoll.
Both Vernon Walker, with his special effects, and Russell Metty's photography are well up to the elaborate production given the film.
NEW YORK TIMES Film Review - March 4, 1938
- by Frank S. Nugent
- submitted by Barry Martin
To the Music Hall yesterday came a farce which you can barely hear above the precisely enunciated patter of Miss Katharine Hepburn and the ominous tread of deliberative gags. In "Bringing Up Baby" Miss Hepburn has a role which calls for her to be breathless, senseless and terribly, terribly fatiguing. She succeeds, and we can be callous enough to hint it is not entirely a matter of performance.
And the gags! Have you heard the one about the trained leopard and the wild leopard who get loose at the same time? Or the one about the shallow brook with the deep hole? Or the one about the man wearing a woman's negligee? Or the one about the Irishman who drains his flask and sees a wild animal which really is a wild animal?
You have? Surprising, indeed. But perhaps you haven't heard the one about the annoying little wire-haired terrier who makes off with a valuable object and buries it somewhere and has the whole cast on his heels. That one, too? Well, then, how about the one where the man slips and sits on his top hat? Or the one where the heroine is trying to arouse a sleeper by tossing pebbles at his window and, just as he pokes his head out, hits him neatly with a bit of cobblestone? Or, getting back to the leopard who is the "baby" of the title, would you laugh madly if a Charles Ruggles did a leopard-cry imitation as an after-dinner stunt and commented two minutes later upon the unusual echo?
Well, neither did we. In fact, after the first five minutes of the Music Hall's new show - we needed those five to orient ourselves - we were content to play the game called "the cliché expert goes to the movies" and we're are not at all proud to report that we scored 100 per cent against Dudley Nichols, Hagar Wilde and Howard Hawks, who wrote and produced the quiz. Of course, if you've never been to the movies, "Bringing Up Baby" will be all new to you - a zany-ridden product of the goofy farce school. But who hasn't been to the movies?
Review:
- by Kathy Fox
This is Cary Grant's 30th film, his second movie out of four with Katharine Hepburn, and his first out of five being directed by Howard Hawks. This has become one of my favorite films, but it has taken several times watching it to digest all the frivolity and clever lines spoken by its stars. I enjoy it more and more each time I see it. At this point in her career, Katharine Hepburn was labeled "box-office poison" by theatre owners, and RKO put her in films such as this in order to revive her career. This film lost more than $350,000.00 which further contributed to Hepburn's reputation as "box-office poison." Now this film has become known as one of the finest of screwball comedies and an all-time classic, but in its day it was a disaster. Gary Grant is perfectly at home as a farceur and Ms. Hepburn matches him in ever respect. This is the story of David Huxley, a paleontologist, trying to secure a $1,000,000.00 endowment for his museum. He meets up with Susan Vance (Katharine Hepburn) who is trying to leave the golf course in David's car and who is so goofy in her role, that she plays her character so unbelievably well. The two make such a cute couple in this movie, matching each other's lines word for word. Susan falls in love with David and immediately takes steps in order to stop him from showing up at his wedding to Alice Swallow, his business cohort, the following day. Susan conjures up all types of schemes to keep David close to her, including hunting for a leopard (Baby), stealing his clothes, losing the important intercostal clavicle (which was taken by George, the dog, played again by Asta), which David has taken four years to find, and which is the last part of the brontosaurus skeleton needed to complete his dinosaur structure. They get put in jail, fall into the river, dig many holes in the yard to find the bone, and the list of great comedy goes on and on. This movie rivals the comedic level of ARSENIC AND OLD LACE, and HIS GIRL FRIDAY, and is so cleverly written and is filled with such laughter and fun. Too bad life can't be like this! Personally, I think this is one of Cary's best roles, coming right on the heels of THE AWFUL TRUTH, when he discovered that indeed he was a comedian at heart. Too bad that the Academy of Motion Pictures did not recognize comedy as worthy of Oscar nomination, for certainly this would have won an award. This film has stood the test of time and is much more appreciated today than when he first was released. In the end, the $1,000,000.00 is given to Susan, who in turn gives it to David for his museum, and when they realize they are in love, Susan climbs up on a ladder to give David the lost bone, she starts to fall, and climbs on the dinosaur bone structure and it tumbles to the ground (4 years of work down the drain), but David catches her with his arm and pulls her up on the scaffolding and they end up in each others arms. That's worth the million dollars right there. Bravo, for Cary.
Review
Click here to read Susanna's review of "Bringing Up Baby"
Review
Click here to read Jenny's Crackpot Reviews at the Cary Grant Shrine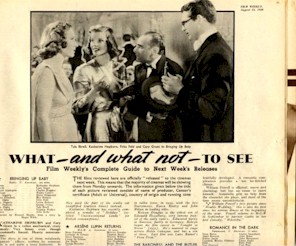 Film Weekly - August 13, 1938

This picture appears above the article. You will get a chuckle out of the article. Any mispelled words are as they appeared in the article.

Katharine Hepburn and Cary Grant in a rather mechanical, crazy comedy. Very funny even though occasionally forced. Hearty entertainment.

The story is one of those sedulously "quaint" affairs, written by someone who is not quite a born humorist. It gives an impression of effort behind the laughs.

It deals with the pursuit of Cary Grant, a professor of zoology, by Katharine Hepburn, and involves a couple of leopards, a big game hunter (Charles Ruggles) and a country gaol. In the course of Hepburn's determined efforts to stop Cary from marrying his secretary (Virgina Walker), she falls over unseen objects, slides down a muddy bank and flops into a stream. In fact, she's a regular romp-but to orders rather than spontaneously.

The opening is a little off-key and several comic sequences have only the elementary appeal of slapstick. On the whole, however, there is a abundance of laughs, if mainly obvious ones.

One of the best is provided by the gaol sequence, in which Miss Hepburn impersonates a ganster's "moll".

Apart from Hepburn's consientious effort and Cary Grant's really excellent work, efficient support is provided by such clever players as Barry Fitzgerald, May Robson and Charlie Ruggles. An intelligent leopard and an attractive terrier compete with the human elememt.

A wholehearted effort to make you laugh continuosly.

This is a footnote:

The leopards are real, though a stuffed one was used in a few of the scenes. Clever trick photography is responsible for the apparent mingling of the animals and the humans.

The purr of Baby, the leading leopard, proved too fierce for the microphone, so they used the purr of the studio cat (amplified fourteen times) instead.

LOS ANGELES TIMES Film Review - February 19, 1938


- submitted by Renee Klish

Hepburn's New Picture Comedy Hit

Without peradventure of a doubt "Bringing Up Baby" will take its place among the most insane comedies of the year, and yet one of the most original, and fantastically amusing. It's incidentally an absorbing event. Never a dull moment. And you can't tell what's going to happen next.

Katharine Hepburn is a harebrained heroine indeed, and Cary Grant an immensely eccentric hero. There are at least fifty comedy falls to the square furlong of film - or do furlongs come in squares? - and every slapstick device is incorporated.

COMEDY HIT

Total result, as demonstrated yesterday at Pantages and Hillstreet theaters, is rich entertainment. Some audiences may find the film too nutty, but the majority are bound to have fun; And in the end "Bringing Up Baby" will probably be a decisive hit.

Miss Hepburn does a difficult role with great ability and is matched in skill by Grant. These two carry the picture, with Charlie Ruggles, Walter Catlett and occasionally Barry Fitzgerald furnishing high lights of humor.

CAST PLEASES

May Robson provides a background of sanity for the proceedings. Fritz Feld, Virginia Walker, who is very good; Leona Roberts and George Irving assist ably, and others are John Kelly and Tala Birell.

"Baby" is a leopard, designed as a pet. Grant heads a museum for prehistoric animals. Miss Hepburn . . . But, then, why bother about identifying everybody?

Howard Hawks directed from the screen play by Dudley Nichols and Hagar Wilde, who spare nothing for the laugh.

CHICAGO DAILY TRIBUNE Film Review - March 27, 1938


- by Mae Tinée
- submitted by Renee Klish

Comedy About a Leopard Has Hilarious Spots

Good Morning!

It's been a long time since we've had a real feature length slapstick comedy. As a quite amusing specimen of this class, I welcome "Bringing Up Baby."

Probably you have the idea [see title] that this is a domestic comedy dealing with the upbringing of human offspring.

Guess again, my dears! "Baby" is a leopard!

"Ah HA!" you say, "A jungle picture!"

Wrong! There's lots of monkey business but the story's locale is America. The hero is a young, and O, so serious anthropologist, desirous of obtaining an endowment of $1,000,000 for his museum from a rich old lady bent on handing out the sum to some such institution. The heroine is the wealthy niece fo the old lady - madcap to the point of mild insanity . . . Baby, a tame leopard; Asta, the dog that won fame in "The Thin Man," May Robson, Charles Ruggles, Walter Catlett, Barry Fitzgerald, and Fritz Feld prove excellent entertainers in a brightly selected cast.

As the story opens, David is on the point of marrying Miss Swallow, his serious museum assistant. His endeavors to interest Mr. Peabody, the aforementioned old lady's lawyer, in his museum leads him to a golf course where he meets Susan, the madcap heiress. She, falling for him like a ton of adobe, introduces the leopard . . . Leopard becomes reason for scientist's accompanying heiress to aunt's Connecticut farm - where of all the outlandish things that happen - my dears . . . !

Much merriment is occasioned the audience by Asta's theft of a precious old bone needed to complete the skeleton of a dinosaur . . . A vicious leopard escapes its keeps and is mistaken for the gentle Baby, causing no end of excitement . . . Comes a time when the whole caboodle of leopard finds, keepers and lovers are seriously suspected of insanity by local police . . . and here's a stretch where you have fun.

The latter half of the picture is a heap more comical than the first reels, which drag just a lee-tle bit.

Katharine Hepburn's casual screwiness reminds you of Carole Lombard's new technique. Cary Grant, in spectacles, is pretty amusing though not so much so as he was in "Topper" and "The Awful Truth."

I think the picture might have been shorter to advantage. But mebbe not.

LOS ANGELES TIMES Film Review - March 21, 1938


- by Norbert Lusk
- submitted by Renee Klish

Star Held Miscast in 'Goofy' Farce

R.K.O.'s mistake in casting Katharine Hepburn in goofy comedy is proved by the poor, single week of "Bringing Up Baby." It seems that almost any star, including Irene Dunne, Carole Lombard and Myrna Loy may attempt antic comedy and make a go of it, but that medium is not for Miss Hepburn in the theater where she is accepted as an important dramatic artist.

Dissatisfaction and displeasure are voiced by patrons, many of whom are susceptible only to entertainment and are without critical bias. The consensus of audience opinion is that the picture is too outrageous a parody on good taste and common sense. It may clean up in neighborhood houses.

SCENE DISLIKED

Of course, Howard Hawks, the director, has done the most with his material, and no one makes light of the story-telling skill of Dudley Nichols and Hager Wilde, but the fitness of the whole is what seems to rankle. Virtually all the critics make a point of the scene in which Miss Hepburn is separated from the back of her dress and meanders through a hotel lobby exposing her underwear.

The following sequence in which Cary Grant endeavors to conceal her exposure is cleverly developed and funny, too, after the fashion of Mack Sennett and the early Chaplin comedies with Edna Purviance, but it does not fit in to the modern viewpoint. It is legitimate slapstick, but it is not up to date.
---
<< Back to Reviews
| Top of Page