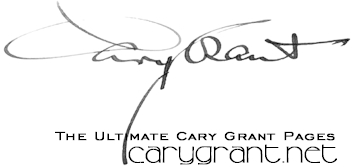 ---
---
Cary's Favorites
All actors must like some of their movies better than others. These were Cary's favorites:
The Awful Truth
Bringing Up Baby
Gunga Din
His Girl Friday
The Philadelphia Story
None But The Lonely Heart
Notorious
To Catch a Thief
Indiscreet
North By Northwest
Charade
Father Goose
---
Money Makers
In the 65th Anniversary special issue of Weekly Variety, the following Cary Grant films were listed among the All-Time Box Office Champs. These are the films that have the most successful rental sales for theatrical distribution in the United States and Canada.
| | |
| --- | --- |
| Operation Petticoat | $9,500,000.00 |
| That Touch of Mink | $8,500,000.00 |
| North by Northwest | $6,310,000.00 |
| Charade | $6,150,000.00 |
| Father Goose | $6,000,000.00 |
| Notorious | $4,800,000.00 |
| The Bachelor and The Bobby-Soxer | $4,500,000.00 |
| To Catch a Thief | $4,500,000.00 |
| The Pride and The Passion | $4,500,000.00 |
| I Was a Male War Bride | $4,100,000.00 |
| Night and Day | $4,000,000.00 |
| Walk, Don't Run | $4,000,000.00 |
(Source: The Complete Films of Cary Grant by Donald Deschner,1991 Citadel Press)
---
Movie Locations
Sylvia Scarlett
Malibu Coast
Gunga Din
California's Sierra mountain range located around Lone Pine, 200 miles north of Los Angeles.
The Howards of Virginia
Many exterior scenes shot at restored tourist attraction, Williamsburg, Virginia
Mr. Blandings Builds
His Dream House
Malibu Creek State Park. The house built by Mr Blandings in the film still stands, located above the camping centre near the park's entrance.
I Was a Male War Bride
Heidelburg and Zuzenhausen, both Germany
To Catch A Thief
French Riviera
The Pride & The Passion
Assorted locations within 75 mile radius of either Avila or Madrid, final shots 500 miles north near Santiago de Compostela.
Operation Petticoat
Key West, Florida, on the submarine Balboa
The Grass is Greener
Osterley Park, West London, England
Father Goose
Ocho Rios, Jamaica
Walk, Don't Run
Tokyo, Japan
---
Cary's Films by Studios
PARAMOUNT - 23 MOVIES
This is the Night (1932)
Sinners in the Sun (1932)
Merrily We Go To Hell (1932)
The Devil and the Deep (1932)
Blonde Venus (1932)
Hot Saturday (1932)
Madame Butterfly (1932)
She Done Him Wrong (1933)
Woman Accused (1933)
The Eagle and the Hawk (1933)
Gambling Ship (1933)
I'm No Angel (1933)
Alice in Wonderland (1933)
Thirty-Day Princess (1934)
Kiss and Make-Up (1934)
Ladies Should Listen (1943)
Enter Madam (1935)
Wings in the Dark (1935)
The Last Outpost (1935)
Big Brown Eyes (1936)
Wedding Present (1936)
To Catch A Thief (1955)
Houseboat (1958)

Fox/United Artists - 1 Movie
Born to be Bad (1934)

RKO - 15 Movies
Sylvia Scarlett (1936)
The Toast of New York 1937)
Bringing Up Baby (1938)
Gunga Din (1939)
In Name Only (1939)
My Favorite Wife (1940)
Suspicion (1941)
Once Upon a Honeymoon (1942)
Mr. Lucky (1943)
None But the Lonely Heart (1944)
Notorious (1946)
The Bachelor and the Bobby-Soxer (1947)
The Bishop's Wife (1947)
Mr. Blandings Builds His Dream House (1948)
Every Girl Should be Married (1948)

MGM - 6 Movies
Suzy (1936)
Topper (1937)
The Philadelphia Story (1940)
Crisis (1950)
Dream Wife (1953)
North by Northwest (1959)

Grand National - 1 Movie
The Amazing Quest of Ernest Bliss (1936)

Columbia - 10 Movies
When You're In Love (1937)
The Awful Truth (1937)
Holiday (1938)
Only Angels Have Wins (1939)
His Girl Friday (1940)
The Howards of Virginia (1940)
Penny Serenade (1941)
The Talk of the Town (1942)
Once Upon a Time (1944)
Walk, Don't Run (1966)

Warner Brothers - 5 Movies
Destination Tokyo (1944)
Arsenic and Old Lace (1944)
Night and Day (1946)
Room for One More (1952)
Indiscreet (1958)

20th Century Fox - 5 Movies
I was a Male War Bride (1949)
People Will Talk (1951)
Monkey Business (1952)
An Affair to Remember (1957)
Kiss Them For Me (1957)

United Artists - 1 Movie
The Pride and the Passion (1957)

Universal-International - 5 Movies
Operation Petticoat (1959)
The Grass Is Greener (1961)
That Touch of Mink (1962)
Charade (1963)
Father Goose (1964)

---
© www.carygrant.net 1997-2009
web design by Debbie Dunlap - www.debbiedunlap.com