Legendary actor dies at St. Luke's
after canceling Adler show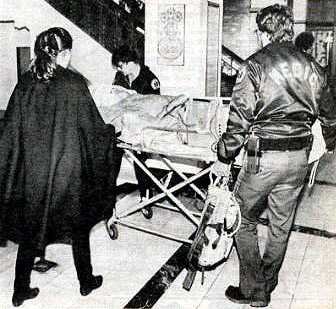 Movie idol Cary Grant is wheeled out of the Blackhawk Hotel about 9:15 p.m. Saturday with his wife, Barbara Harris, at his side. Paramedics took the 82-year-old actor to St. Luke's Hospital.
Cary Grant died at St. Luke's Hospital at 11:22 p.m. Saturday. Grant, who was stricken before a scheduled appearance at the Adler Theatre, was 82.
James Stuhler, St. Luke's president, said the veteran actor was in a "comatose condition" when he was admitted to the hospital about 9:15 p.m.
Dr. James Gilson said Grant died of a massive stroke.
He said had Grant been brought to the hospital earlier, nothing could have been done.
Gilson is a cardiologist.
"The only thing unusual about this case was that the man's name was Cary Grant," Gilson said.
There will be no autopsy. The body was to be flown out of the Quad-Cities by private jet early this morning.
Three physicians - Gilson, Dr. Richard Roski, a neurosurgeon, and Dr. Dan Johnson, a neurologist - treated Grant during the course of the evening.
Gilson said a CAT san was completed almost immediately after Grant arrived at the hospital.
He said Grant had felt ill after his rehearsal.
"He basically felt ill and did not want to cancel because he wanted to continue the performance," Gilson said.
Gilson had been called to Grant's room at the Blackhawk Hotel about 9 p.m.
Gilson said Grant never regained consciousness after he was taken to the hospital.
When asked if Grant had previously shown any signs of poor health, Gilson said, "His heart was not a problem, now or in the past."
A stroke is "unpredictable and not uncommon in his age group," Gilson said.
Asked why there had been a delay in confirming the death, Gilson said Grant's wife, Barbara Harris, had requested that some family members be contacted first.
Lois Jecklin, director of Visiting Artists, which sponsored Grant's appearance, said the actor had appeared to feel all right during the 4 p.m. rehearsals.
"He was chipper, in fact. He made several changes of the microphones, shifted the stool where he was sitting and made some rearrangements for the screening of some of his old film clips," Mrs. Jecklin said.
Grant reportedly was apologetic for the length of the run-through. Stagehands applauded the old pro, a veteran of dozens of movies.
But as he was leaving the stage, Mrs. Jecklin noticed that he asked for support from his wife, actress Barbara Harris.
"That was my first indication, but I didn't think anything of it," Mrs. Jecklin said.
Grant returned to his room in the Blackhawk Hotel and had developed a cough. However, it was said that Grant had not requested a doctor.
However, a physician was called, and about 8 p.m. there was a request for more blankets because Grant was chilled.
Through the years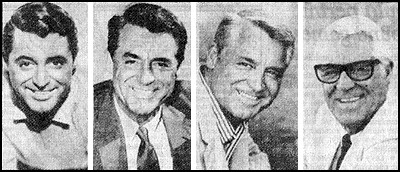 Cary Grant, whose screen image of half a century has been that of a debonair hero with impeccable manners and a devilish sense of fun, is shown in these file photos through the years. Beginning at left, in 1942, 1957, 1967 and 1980
A look behind the legend
-- by Jennifer Phillips
Cary Grant, born in Bristol, England, in 1904, came to America with an English musical comedy troupe when he was 16.
He was one of Hollywood's biggest stars, appearing in 72 films with actresses such as Mae West, Katharine Hepburn, Rita Hayworth, Ingrid Bergman, Shirley Temple, Marilyn Monroe, Grace Kelly and Doris Day.
His movie credits include "His Girl Friday," "To Catch a Thief," "Charade," "Father Goose," "Only Angels Have Wings" and "Notorious."
In a recent interview with the Quad-City Times published as a preview to his scheduled appearance in Davenport, Grant reflected on his personal life as well as his career.
When asked if he ever feels his age, Grant replied:
"Why, of course I do. But I'm not running any race with George Burns. One day people will read where I've kicked off and say, 'Well, he was looking pretty old, wasn't he?' "
He said talking about his age didn't bother him.
"No, why should it? There's nothing anyone can do about age anyway. When I'm gone, they can pass the cudgel to Jimmy Stewart; he's getting up here, too. I was in vaudeville with George Burns and I've emulated him in many was, especially his impeccable timing."
On a comment he once made that he would like to have 100 children and keep them all on a big ranch, Grant said, "Yes, I think I would have liked to experience that now. I was so self-concerned for so many years that I didn't think about how nice a lot of kids would be. My wives didn't seem to want children either...."
Grant and actress Dyan Cannon have a daughter, now a 21-year-old college senior.
Grant also said men should not envy his trademark good looks, charm and sophistication.
"Men should go back to having pride in themselves. They can emulate me, but envy, no, never."