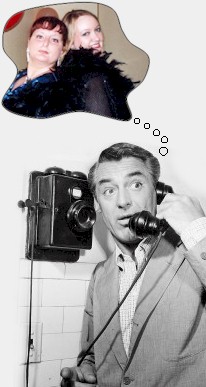 WINNER!
Submitted by Esther Park

"Hello, POLICE?....
This is Cary Grant.
I'm being surrounded...
What? Yes!
Of course it's THE Cary Grant!
I don't care if you don't believe me.
Now listen here fellas,
I'm calling from the lobby of the Hotel George.
HOTEL GEORGE!
There is a mob of women here calling themselves warbrides or something or other.
They're after me!
They're coming this way.
Please hurry!"
---
2nd Place Tie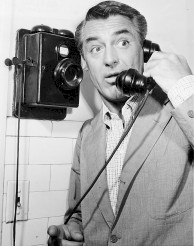 Cary Grant upon learning that actor Danny DeVito has been selected to play the dashing movie star in the big screen version of "Cary Grant: A Touch of Elegance".
Submitted by Debbie Moran
---
2nd Place Tie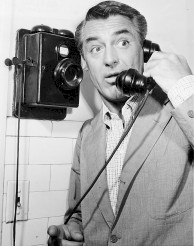 "I MARRIED WHO????"
Submitted by Tina Corbin
---
3rd Place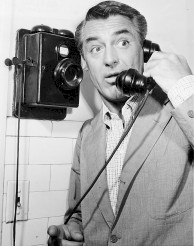 'Your what?!'
Submitted by Morag
Other captions submitted:
"Ohhh??!?! Who??? Ahhhh...... Who???
Suzy who???? Ahhhh, what was that name again?
Ummm.....you must have the wrong number..."
---
Sexagenarian Movie Star Cary Grant upon learning that the love of his life, Debbie Dunlap, is over 24 and thus not suitable to become the sixth Mrs. Cary Grant.
---
Style icon Cary Grant upon hearing that he is Jennifer Lopez's fashion inspiration.
---
Perennially tanned Cary Grant upon hearing the latest Surgeon General's Report that repeated sun exposure can affect sexual performance.
---
The voice of doom calling? Who's leg are you trying to pull, Jim!
---
Gabriella, Gabriella are you there, the line is breaking up? GABRIELLA!!!
---
"Betsy!? You're in town!! How lovely!"
(While on location for The Pride and Passion)
---
Shocked and disappointed Cary Grant upon learning that members of the E-Mail Warbrides, an on-line fan club, are only interested in him for his mind.
---
Cary Grant, circa 1958, upon being told that Sophia Loren is actually the stage name for 35 year old cross dresser Morris Hopper, son of Hollywood rumorist Hedda Hopper.
---
Hello!! Mayberry Sheriff's office??
---
Well, Clark, the phone BOOTHS are down the hall,
but I'll only be a -- where'd he go?
---
Cary Grant upon discovering as reported in the New England Journal of Medicine that repeated usage of LSD is greatest among eunuchs and used car salesmen.
---
"My Girl Friday is North By Northwest with Suzy on a Houseboat.
Got it Father Goose! Will this make me Notorious??
What?? I Was A Male WARBRIDE!!!!

---
Confound it -- I got Kaplan's answering machine again!
---
Oh, just put that plank by the jukebox!
---
Cary Grant on being asked by the Academy of Motion Picture Arts and Sciences to present the Best Actress Award to Suzy Parker for her role in "Kiss Them For Me." Cary's response: "Of course, I wood."
Cary: with clenched teeth
"Can someone please help me--I can't feel my fingers!!

---
"Two panes of glass, surrounded by plastic. What a novel idea!"
---
"Hi, Cary Grant. Regis Philbin here from ' Who wants to be a Millionaire.' I'm here with Maureen Donaldson and she's one question away from winning $1,000,000 and she needs your help. She'll read the question and two possible answers. Go ahead, Maureen: 'Cary, what does the latin word "rattus" mean? A. small, long-tailed rodent or B. a despicable, sneaky person, especially one who betrays her friends?'"
---
Many thanks to all of the participants in this contest: Krista, Morag, Tina Corbin, Debbie Moran, Aileen Mackintosh, Selena Richardson, Carey Martin, Dolly, Elaine Abram