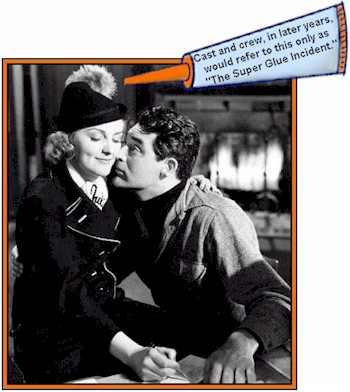 Submitted by Carey Martin
---
2nd Place

(newspaper headline):
Tragedy in Hollywood:
Actor Cary Grant Blinded by Sight of Ugly Hat
Submitted by Esther Park
---
3rd Place

Cary: Goodness, I've never seen such long nose hairs
Submitted by Donna Moore
---

Other captions submitted:
Is that a flea in your eyelash?
---
So THAT'S what a mole looks like close-up?
---
My grandma, what big eyes you have!
---
Dahling, is there anything in there??
---
"Butterfly kisses again? This woman IS kinky," Cary thought.
---
Playing doctor is one thing, but playing opthamologist?!?!
---
"Gee, I can't see the splinters on you like I can Suzy Parker, but you look an awful lot like her wooden you know it."
---
Mm Mmmmm. Perfume, peppermint flavored perfume.
---
Hey doll, lets be like eskimos and rub noses.
---
Cary: "Come on, give me a little kiss!"
---
"Don't be coy, you know you want me....."
---
"Ah, let's Kiss And Makeup!"
---
Cary: "As soon as you finish here, let's have a picnic by the fireplace."
---
"Don't look now - there's a gopher on your hat!"
---
"Funny, you don't look like Suzy Parker,
but I wood almost swear you both have the same pine scent."
---
"Yes, that shade IS midnight blue you're wearing, isn't it!!?"
---
Cary: "I'm not an optometrist, I just play one in the movies!"
---
Cary thinking to himself: "Man, how obvious do I have to be with her? Hello!!! I can't get any closer!"
---
Cary thinking to himself: "How much longer are they going to make me do this -- my neck's locking up AND my foot's asleep!"
---
"Gee, I can't see the splinters on you like I can Suzy Parker,
but I wood know that pine scent anywhere."
---
"Darling, Won't you please put ice cream on your grocery list?"
---
C.G.: "Don't say anything, or they'll think that I did it!"
---
"You're WHAT????"
---
Cary says, "Tell me, is this really your will?"
She says, "Yes, Darling it is!!!"
Underneath her breath there is a chuckle and she's thinking,
"Yeah right! Thatís what they all think it is...
All seven late husbands!!!"
---
Peter Pan leaves a quick note before whisking a reluctant Cary off to Never-never Land
---
If you sign your name on the dotted line,
I promise you can have anything you want!!!
---
Oh My! I'd know that smell anywhere!
It's Suzy Parker in disguise!
---
"I am not sure darling, but I think your pointy heal has dislocated my pinky toe."
---
Cary: Doctor, I have this mole on my face.
I'd like it removed and replaced by this please.
---
Girl: Smug? Yes, I suppose I do look smug.
Wouldn't you be if you patented the "Cary Grant Attractor"
---
Cary: Darling, don't you think your make-up's a little.....sticky?
---
Cary: Goodness, I've never seen such long nose hairs.
---
Many thanks to all of the participants in this contest: Cheryl Trahan, Carey Martin, April Parrish, Aileen Mackintosh, Gina Ward, Karen G., Krista Gower-Johnson, Selena Richardson, Rachel Waters, Esther Park, Sharron, Tina Corbin, Amy and Donna Moore.