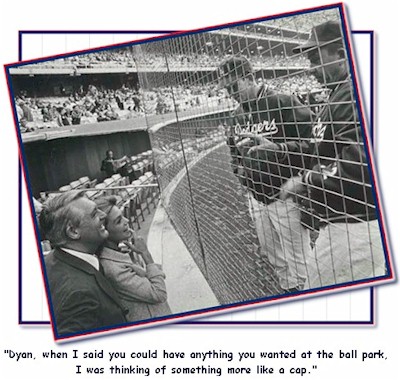 Submitted by Traci Martin
---
2nd Place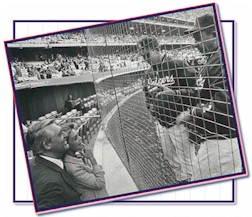 "Cary dear, you're right. That IS Suzy Parker in the bat rack."
Submitted by Traci Martin
---
Third Place Tie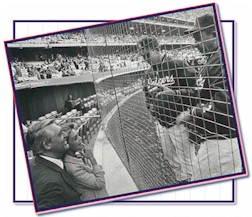 Cary: OK Darling, which one do your want?
Diane: Oh Cary, I don't know...the one on the right is already house trained, but the one on the left looks so frisky!
Submitted by Helen Fredericks
---
Third Place Tie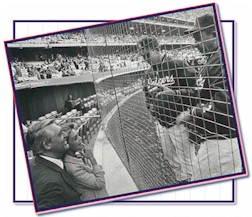 "Yes guys, I've been trying to "Dodger" for years now!"
Submitted by Gina Ward
---
Other captions submitted:
"These animals really are the oddest I've seen in ANY zoo, Dyan!"
---
Dyan: Cary these guys are really cute
Cary: They might be now but just wait 'til the game starts
---
"I think I'll take the one on the right Cary.
He seems so...so...um...curious."
---
"What do you think? Boxer or briefs?"
---
"No really, what are y'all doing out there?"
---
"Miss Cannon, when you are done chewing on your own finger, please feel free to nibble on mine."
---
"Now darling, remember what the sign says about feeding the animals?"
---
A Scene From the Movie:
"THAT TOUCH OF ASTRO-TURF"
---
"Honey, look at those cute monkeys in the cage."
---
"Mr. Grant, I appreciate the suggestion but I think I prefer my
Louisville Slugger over the Suzy Parker Commemorative bat."
---
"Stand back dear, they occasionally spray."
---
Cary: So you understand, when she touches her lip like this,
that means to steal 3rd, OK?
---
Cary: You are right darling,
We have nothing like this at the London Zoo!!!
---
"No, Dyan, I don't think those kind of pants come in pink silk
and that is as tight as they make them."
---
"Take my wife, Please!"
---
"I'd love to bench her for a week or so!"
---
"You take her out.....I'll take first base!"
---
"If you want get to first base with her, you'll have to "catcher" first!"
---
"She's way out in left field."
---
"Maybe if I buy the team they will let me play?"
---
Many thanks to all of the participants in this contest: Traci Martin, Aileen Mackintosh, Helen Fredericks, Cheryl Trahan, Esther Park, Josette Wood, Jenny Curtis, Shona Heyd, Debby Schwenson, Gina Ward, and Diane Parker.