---
Second Place - Judy Schuler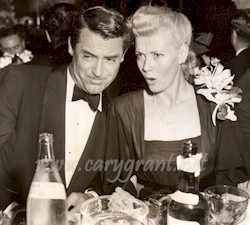 "Now that's a wardrobe malfunction!"
---
Third Place - Carol Roccia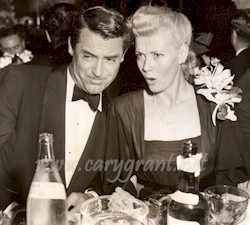 "Is that my wife and your husband?"
---
~ Honorable Mention ~
"I hear they call it a thong."
- Rick Bruce -
If you aim right you can bounce a quarter off it.
Here, let me show you.
Oh . . . Oh, that's not good.
- Daniel Slaten -
"You were married to Her????"
- Tina Corbin -
"Yes Cary, that was very loud, but what I said was that I wanted to hear your HEART."
- Karen Bezman -
Woman: Isn't that Joan Fontaine over there!
Cary: Do you think if I send over a glass of milk, she'll get the message?
- Dorothy Glennon -
"Do you think we should tell her she has her skirt tucked into her underwear??"
- Morag Clarke -
Cary: Fifty-dollars says that "woman" over there isn't really a woman.
- Cristina Baptista -
---
There were 139 entries in this caption contest!!
Many, many thanks to all of the participants in this contest: Carol Roccia, Esther Park, Beth Bufford, Vera Mayer, Alberta Charles, Dorothy Glennon, Judy Schuler, Diane Blagg, Morag Clarke, Karen Bezman, Antonella Ritrovato, Stephanie Bushey, Tiffany Geronimo, Karl Adkins, Hilary, Irena Pasvinter, Rick Bruce, Daniel Slaten, Blanka Rehakova, Tina Corbin, Cristina Baptista,