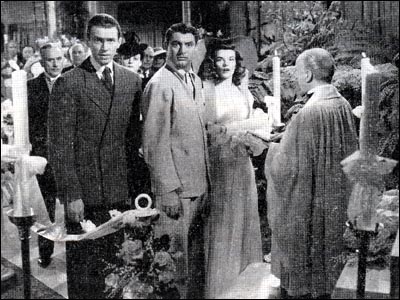 The role of Dexter Haven in the Philadelphia Story was my favorite because I thoroughly enjoyed playing it. I liked working with Katharine Hepburn and Jimmy Stewart; I liked the honesty of the story and its gentle humor. And I got special satisfaction from the fact that all the money made by this picture went to the British War Relief and the USO.
I was given the choice of playing Dexter Haven or Mike Connor, the two leading male roles. I took Dexter Haven because it was a shorter part and therefore gave me a little vacation. Jimmy Stewart took Mike Connor and received an Academy Award for his performance. But if our roles had been reversed, I'm sure Jimmy would have won the award anyway.
Not long before, I had worked with Katharine Hepburn in Sylvia Scarlett, which was a scandalous flop. Then I was with her in Holiday, which suffered because it poked fun at the rich at a time when that exercise had become unpopular. The Philadelphia Story wasn't a defense of the wealthy, but it did suggest that those who happened to be cushioned with some financial plush were often quite human.
In one scene I had to hit Jimmy Stewart on the jaw. Afterward, looking up from the floor, he said, "What the heck did you do that for?"
Faithful to the script, I answered, "George would have hit you harder."
Then Jimmy added an impromptu line that stuck. "You'll do," he said.